One of the biggest challenges facing any serious wine lover is how to find good reliable wine for every day drinking purposes that will not break the bank. While it is great talking and reading about wine tastings and special occasion wines, what will you be drinking with your Saturday night steak, or your mid-week pasta? If you are like everyone else, you probably have 3 or 4 of your favorite types of "drinkers" on hand in the wine fridge or cellar, and this post is all about finding those "drinkers", the endless quest to find a good wine that is inexpensive and ready to drink now. With 4 adult kids, family dinners at my place often include 10 adults, so good luck getting by with less than 3 or 4 bottles of wine at one of those dinners, and you don't want to be spending over $100.00 on wine every time you have the family over for dinner.
Over the years I have bought and tried many cheap table wines that were mostly not that interesting. You want something reasonably good, not something that is raw, overly acidic, too young, with a variety of unpleasant odours and tastes that turns everyone away from the wine and has everyone saying "no thanks, I'll just have a Perrier". I also dabbled with making my own wine, from wine kits, trying to convince myself that these wines were okay, and constantly trying to figure out what I had done wrong in the production process. I would buy the juice concentrate in a large bucket, add water and produce about 32 bottles in a 5 gallon carboy over a 4-6 week period. I was not terribly impressed with my skills as the finished product tasted watery, too loose and unstructured. I was also unsure if it was my shortcomings or the juice concentrate itself. Aging did improve the wine marginally, but this certainly was not a good long term solution. However, the price at $5.00 per bottle was attractive, so it motivated me to keep searching for that elusive "home brew" solution to provide me with acceptable "drinkers".
About 2 years ago I found Microvin Inc. when my kids bought me a wine kit for a Father's Day present.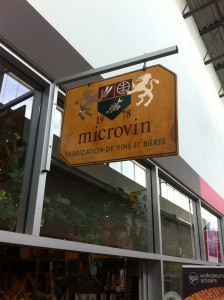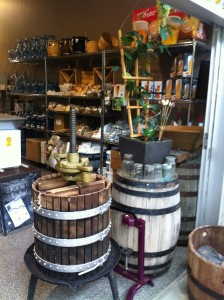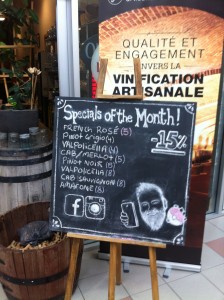 Microvin is basically selling wine kits for home brewing but they also offer, for a fee, to allow you the use of their facilities to make the wine. What I liked immediately about the Microvin product was the option to have the "home brew" part of the process done on their premises, therefore making use of their staff, facilities and equipment. This was a great improvement because I knew right away this would remove the "Reg" factor as the weak link in the finished product. The end result was a much better wine, our first wine was an Italian Pinot Grigio which was quite pleasant, but not yet up to the standard that I wanted for an everyday drinker. So I experimented further with more expensive kits, blends, longer production cycles (6 week products verses 4 week products), etc. Still I thought the wines were good, just not something to get overly excited about, but what more can you expect from a $5.00 bottle of wine.
Then one day about 8 months ago it happened, when ordering my next batch of Cabernet Sauvignon I was asked if I wanted to add in a Merlot "kicker". What was that I wondered, and I was told the shop could add Merlot juice to create a blend that would end up being about 7% merlot, for an extra $10.00. Knowing that many great Bordeaux wines are a blend of mainly Cabernet Sauvignon with a dash of Merlot or Cabernet Franc, I jumped on this as fast as I could. The result was fabulous, that Cabernet Sauvignon/Merlot blend was miles above the straight Cabernet Sauvignon. There was more pepper and spice in the aroma as well as on the palate. There was also more fruit, a smoother aftertaste and an overall much improved tasting experience. I was so impressed I have reordered the same product and blend several times since then. I have found my Holy Grail, that elusive ultimate cheap "drinker" at about $5.00 per bottle.
I recently interviewed Pascal Drapeau, the owner of Microvin Inc. to learn more from him about his passion for wine and what sets Microvin Inc. head and shoulders above the competition for home brew wine kits. Here is some of what I learned from that interview:
Pascal's father started the business in 1978, Pascal joined the business in 1989. Microvin Inc. is currently located in the Pointe Claire Shopping Center in Pointe Claire Quebec (a suburb of Montreal). They have about 2,500 active clients. From 1978 to 2002 they just sold you the wine kit and you brought it home to make yourself. In 2002 they began offering on site production as an added service, for a flat fee of $50.00, and their business took off. Today about 90% of sales come from wine kits, 5% from the sale of beer making kits, and 5% from the sale of accessories. 80% of the customers buying wine kits opt to have the kit made on site, only 20% make the wine themselves at home. Customers are buying 80% red wine kits, and only 20% white wine kits.
Pascal has about 4,000 square feet of store space, half of which is dedicated to the onsite production process.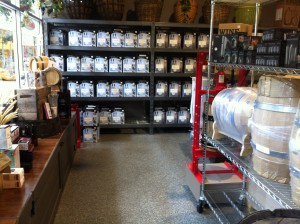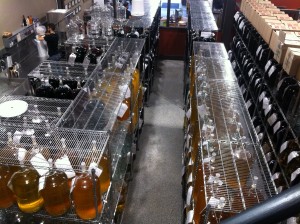 As you can see in the above photos, from kit on the shelf to carboys in the back all in a one stop shop.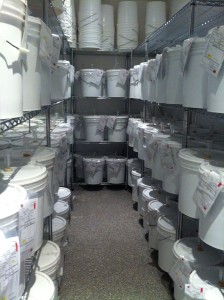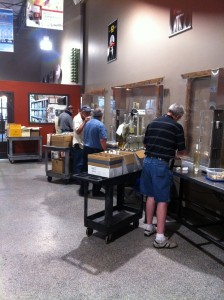 Pictured above is the primary fermentation room on the top and the bottling stations on the bottom, fully occupied.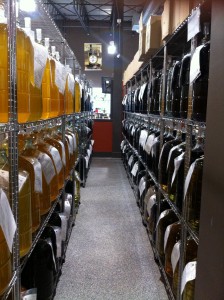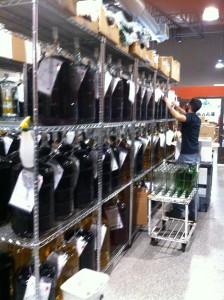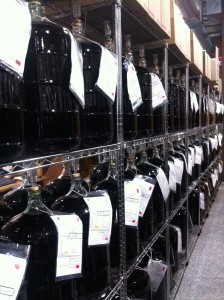 Above photos of numerous racks of carboys verifies that business is in fact booming!
Pascal has maximum production capacity of about 1,500 five gallon carboys at any given time, and he is currently running at between 75% and 90% capacity depending on the season.
Microvin Inc. is affiliated with the RJS Academy of RJ Spagnols, and to learn more about what they offer you should go to www.rjscraftmwinemaking.com . RJS affiliates number over 120 stores across Canada, and Pascal tells me that his store is the second largest in sales in the country. As an RJS Academy store, he is only allowed to carry RJS product, but that product range is quite extensive, consisting of over 160 different types of wine kits, over 8 different product lines that range from 4 to 8 weeks production cycles.
The home brew craft winemaking business is particularly popular in Canada since most of the wine sales in Canada are controlled through provincial liquor control boards, all of whom apply substantial markups and taxes on wine. This means that the average table wine that you can buy in Europe or the United States for $5.00 – $10.00 is going to cost you $15.00 – $20.00 in Canada. So high provincial tax rates on wine is what drives the growth in the craft winemaking business in Canada. In fact, Pascal confirms that every time a Quebec provincial budget applies a tax increase on wine and spirits, his sales immediately go up. This is pretty good economics if you ask me because we all know taxes always go up, never down.
Within the various product lines themselves, you will find almost all the standard single grape varieties including Cabernet Sauvignon, Pinot Noir, Carmeniere, Malbec, Merlot, Syrah, Grenache, and Zinfandel in the reds, and Pinot Grigio, Chardonnay, Riesling, Gewurztraminer, Sauvignon Blanc, and Muscat in the whites. They also have a variety of blends resulting in products like an Australian Cabernet Shiraz Merlot or a Chilean Cabernet Malbec Carmeniere. New products are added all the time, and older ones are dropped. They also offer specialty products such as port and icewine. Grapes are sourced and imported in bulk to the RJS production and packaging facility in Toronto, where the grape concentration and packaging takes place, and from there the wine kits are distributed to their store affiliates. Sometimes a product gets dropped because suitable grape supply is no longer available.
When it comes to the onsite winemaking process itself, the first priority ingredient to consider is the water source. At Microvin, Pascal has equipped himself with both his own distilling system that includes ultra violet light exposure (which cost him $25,000 years ago and is now worth considerably more today), plus an reverse osmosis system costing about $5,000.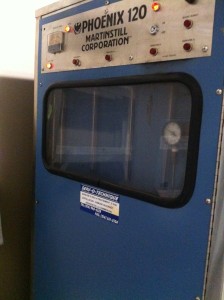 His water source is better, cleaner, free of contaminants and certainly better than the tap water you may use at home, and probably better than the bottled water you may want to use. Your water source is crucial to the finished product, and I am pleased to report that Pascal probably has the best water of any store in the RJS Academy chain with the equipment he is using.
Additives, and in particular sulphites, are another interesting feature in the home brew process. As everyone knows, sulphites are added to wines primarily to preserve the wine as it ages. In theory the faster you drink your wine the less sulphite needs to be added in the wine making process. The Quebec Liquor Board imports their own low end wine in bulk and they bottle it themselves, in the process they add sulphites normally in the range of 200 – 300 parts per million. Many people are quite sensitive to sulphites and often complain that wines heavy in sulphites give them severe headaches (some get migraine headaches). Microvin typically limits sulphites to 50 parts per million, and for sulphite sensitive people this can be reduced to 25 parts per million. This ranges anywhere from 75% to 90% less sulphites, so for sulphite sensitive people the ability to control the amount of this additive is a huge plus. The only thing you lose with less sulphites in the wine is storage and aging time, so you need to drink your 30 bottle batch within one year, which is good for Pascal's business. This should also be good for you because this is an everyday type of wine, not a specialty product that you want or need to store for 5-10 years.
And I have saved the best for last, about a year ago Pascal and his team began experimenting with and offering his clients the ability to add customizing features into the wine production process. So for your California Cabernet Sauvignon it is now possible to add a merlot "kicker", for your Italian Pinot Grigio you can now add a splash of Chardonnay, and so on. You can reduce sulphites. You can also add colour by adding extra berries, or add peppercorns to boost that peppery taste, or more oak to boost the oak and tannin level. Pascal can also easily accommodate further blending by mixing two different kits together to produce a blend of both kits. So instead of just adding the Merlot "kicker" to your California Cabernet Sauvignon, with the resulting 7% – 10% Merlot content, a blend of two kits together (one Cabernet Sauvignon and the other Merlot) would get you a 50/50 blend.
So far as we know, Pascal and his team are the only ones in the RJS chain in Canada who do any customization, and when you taste the difference these customized products make you will never be satisfied with just a regular wine kit again. Not only will his team manage and supervise the production process for you, but they will advise you what you can and cannot do in the way of customization because they have already done the experimentation for you. Their customized features, using their production facilities, benefitting from their experience, and having them manage the process for you are all huge benefits to you and go a long way towards ensuring you will have a very positive wine making experience.
And in the finished product, I found that the straight forward Cabernet Sauvignon was okay, but dry, tart, short on the palate, not special in any way, acceptable but not really enjoyable (which I would rate 6 on 10). That same Cabernet Sauvignon kit with a Merlot "kicker" was now more aromatic on the nose, full and vibrant in fruit on the palate, richer with a more satin feel on the tongue, smooth, fruity, and robust (which I would rate 8.5 on 10). Wow, what a great improvement, and a product I am very satisfied with as an everyday drinker. The price is also hard to beat, coming in at about $5.00 per bottle.
So in summary, for your everyday wine consumption consider craft wine making. Find a shop that offers the wine making service on site (most RJS Academy stores do offer this service), be careful to verify the water source they use, and verify what experience (if any) they have with customized blending and additives. Unless you are at Microvin your craft wine making shop will probably not have any experience with customized features, so you should tell them to contact Pascal for more information. Pascal and Microvin would appear to be leading the industry, and the results speak for themselves. Once you have checked out your local craft wine making shop, if all looks good, go for it and try it out, you may be pleasantly surprised.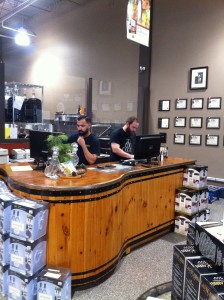 If you are fortunate enough to live in the greater Montreal area, you should check out Microvin. You can reach Pascal and his team at 514-695-4467, by email at microvin@videotron.ca , their website address is www.microvin.com and they are located at 245-0 St. John's Blvd. Pointe Claire, Quebec in the Pointe Claire Shopping Plaza. Tell them Reg sent you!
Good hunting,
Reg.