What is decanting and why should you do it before drinking your wine. Here are my thoughts on this subject.
Most people are happy to just open their bottle of wine and pour a glass for immediate consumption. The process of decanting a wine involves pouring your opened wine bottle into a glass decanter, carafe, or jug, and allowing the wine to "breathe" for a while in your decanter before drinking it. Plain and simple, allowing the wine to breathe for a while means you are allowing the wine to oxygenate, which changes (and should improve) the taste of the wine. You should find that the oxygenation of your wine has softened any rough edges, it should allow a tight closed wine to open up, for fruit that initially is not found in the wine when first opened to express itself after being exposed to the air for a few hours.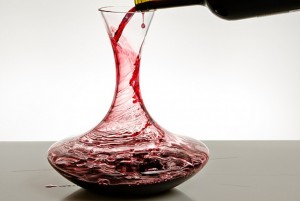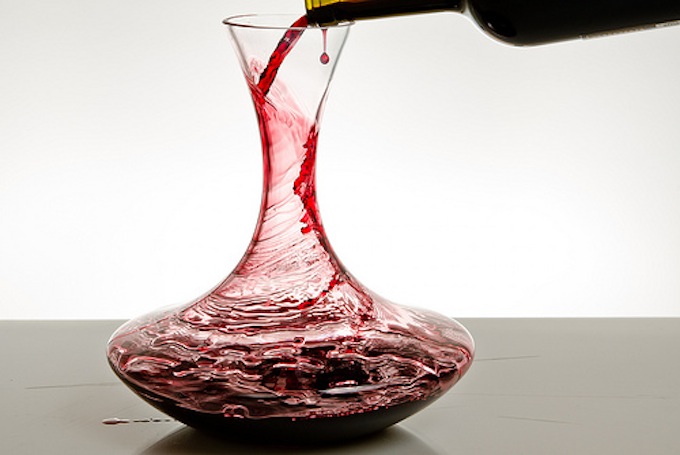 Most liquor and wine stores sell very young wines, often the most recent vintage released, and usually having been bottled within the last 12 months. The very young wine is often "not ready to drink", meaning the wine in the bottle is tight, closed, raw and harsh in taste, shows very little fragrance on the nose, may taste out of balance as either the fruit is not showing, or the harsh acidity has yet to settle down and mellow out or integrate with the fruit in the bottle. You the consumer now have only two choices available to you: either you cellar the wine for several years to allow the wine to evolve naturally over time in the bottle, or you find some way to speed up the aging process, and that means aging your wine as it sits open oxygenating in your decanter before drinking it.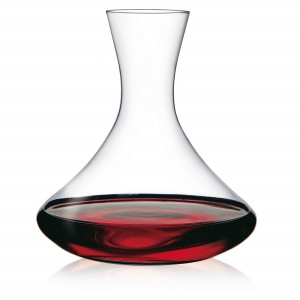 So the most important reason for decanting is to age your young raw wine before drinking it. This works fine at home, but not very well in a restaurant. Aging a young wine in a decanter at your restaurant table over the course of a one or two hour meal is not going to make much of a difference. It might help a little, but not much. That young wine is still going to taste harsh and rough around the edges.
How long you should open and decant a young wine before drinking it will vary from as little as an hour to as much as a day or two. In my opinion, decanting a young wine to drink with your meal should be done on average about 3 hours before dinner in most cases.
How long to decant an older wine is a completely different story. In my post # 9 on the 1986 Chateau Leoville Las Cases I observed that the wine, even at 30 years of age, was still very tight and closed, and clearly would have benefited from substantial decanting, probably a good 6 hours longer than the one hour I had decanted. On the other hand, in my post # 13 on tasting the 1965 Chateau Lafite, the wine was so delicate and fragile that any decanting at all would have destroyed the wine. In my opinion, the length of time you decant an older wine involves more research or tasting experience with the wine and vintage involved. I was right not to decant the 1965 Lafite, but I was wrong to decant the 1986 Leoville Las Cases for only one hour. A little more research on line would have alerted me to the fact that this wine still required a lot of decanting, a characteristic of several top 1986 Bordeaux wines.
The amount of oxidation or aging your wine will undergo in the decanter is also a function of the surface area of the wine that is exposed to the air in the decanter. So using a decanter that is shaped like a carafe or milk bottle will not be as effective as using a decanter with a wider base to it.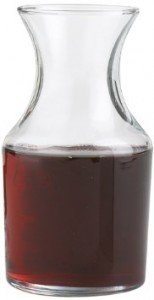 My favorite decanter below is a good example of a wide based decanter that maximizes the surface area exposed to air.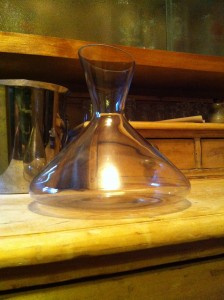 Another reason to decant a wine is to remove sediment. Older wines, and many dessert wines such as port, madeira, and others throw substantial deposits, so unless you want to serve that half inch of mud at the bottom of the bottle, or risk clouding your wine as you stir up the sediment while pouring individual glasses, you should decant those wines before serving. Many vintage ports (Grahams for example) have instructions on the back label advising the consumer to decant the wine before serving to remove the sediment. When decanting an older bottle with sediment on the bottom, you generally want to leave the sediment in the bottle by pouring slowly into the decanter, and stop pouring when the wine flowing into the decanter becomes cloudy with sediment. If there is a lot of sediment you can also try filtering the wine through a cheesecloth or a very fine strainer as you pour the wine into the decanter. In most cases a careful pour will leave about 90% of the sediment in the bottle, and the 10% that does get into your decanter will itself settle to the bottom of the decanter, meaning that most of that can be left behind in the decanter by leaving the last half ounce in the decanter.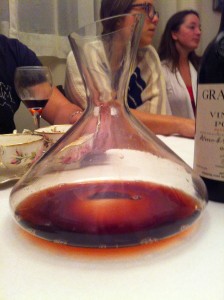 There is also a third reason to have a decanter standing by, and that is in case of emergencies. Imagine you are opening a rare and expensive Bordeaux red with your meal to celebrate a special occasion. The cork is dry and flakes apart, leaving bits of cork floating in the bottle once you finally get what is left of the cork out of the bottle. Or the cork is too loose and tears as you remove it, part comes out and another part gets pushed into the bottle and is now floating in the bottle. Good luck serving this wine to your guests without a decanter. And no, it is not polite to have everyone use their fingers in their wine glass to corral the cork bits and pull them out up the inside of the glass. In these situations you must have a decanter and a strainer or cheesecloth handy to rescue both wine and embarrassed host.
Using a fancy designer decanter like the examples shown below will not get your wine aged as fast because there is very little wine surface area actually exposed to the air. They may look interesting, but they are not functional: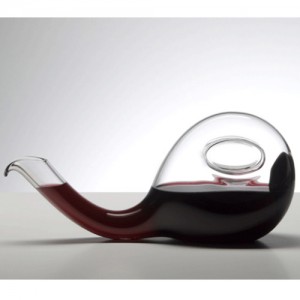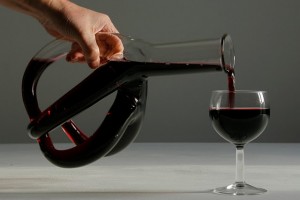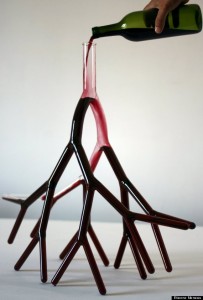 If you are decanting an old vintage Port or Madeira, or even an old Bordeaux, you may want to use a decanter that has a stopper that can be used to stop any further oxidizing once the desired air exposure has been reached. This is particularly important with fortified wines that you may wish to keep in the decanter for consumption over several weeks. See some examples below: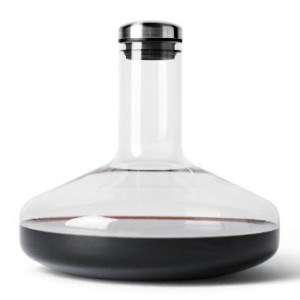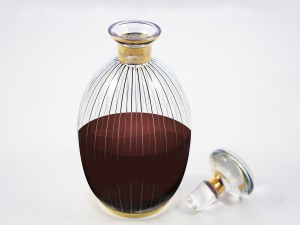 Not difficult, not rocket science, guaranteed to improve the tasting experience of both young wines, and older wines with sediment in the bottle. Also absolutely essential if you want to keep an opened fortified wine on hand to drink over a longer period of time. There are several different types of decanters that you can buy in the marketplace ranging from inexpensive simple glass carafe types (pictured above, 3rd photo) to my favorite (first picture below, approx $65) to luxury crystal decanters at huge prices over $500 (second picture below).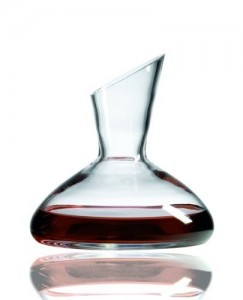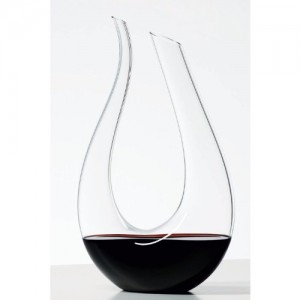 Unless you do a lot of high profile entertaining where nothing but the best will do, I would suggest you let functionality be your guide and look for a decanter that maximizes surface area exposure. If you need one with a stopper for keeping old Port, Madeira, Sherry or Scotch then get a second decanter equipped with a stopper. Every serious wine drinker should have a decanter, but don't break the bank on a fancy crystal one unless money is no object. Save that money for more wine!
Cheers,
Reg.