In September 1986 several family members and I were lucky enough to travel to France on a wine tasting tour specifically organized by us for us. We had already toured Bordeaux, Cahors and the Alsace regions and we had left one day open in Strasburg before returning to Paris and then London. My wife and I, along with my younger brother and his girlfriend decided it would be nice to do a day trip into Germany, so off we went north east from Strasburg and eventually ended up in the town of Deidesheim, about 100 kilometers away.
On arrival in Deidesheim my brother and his girlfriend went off shopping in one direction, my wife and I went the opposite direction until she found a shoe shop that sold baby shoes. Not wanting to sit around while she spent endless time looking for shoes, we agreed to meet up two hours later in the town square where we had left the car, and off I headed looking for other places to shop.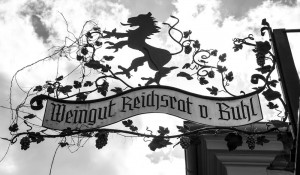 One or two blocks later I came upon the wine shop and tasting room for Weingut Reichstrat Von Buhl. I was familiar with Von Buhl Riesling dessert wines, so like a bee drawn to a flower in bloom, in the door I went. A quick glance at my watch told me it was 9:45 AM so I was due back at the town square to meet my wife by 11:45. Well I figured, better to be tasting wines than looking at baby shoes!
At that hour of course the shop was deserted, but the door was unlocked and a bell on the door announced my entry. As I looked around seconds later the most gorgeous 20 year old blonde girl in a Bavarian style skirt and low cut V neck blue sweater entered the shop from the back and greeted me with a smile. She was beautiful, so much so that I fumbled around like a schoolboy caught off guard by her beauty. It soon became obvious that she spoke no English and I spoke no German. However, through sign language I managed to convey the message to her that I was there to taste her wines, and that lovely girl clearly understood as she went to fridge and got out three bottles to taste.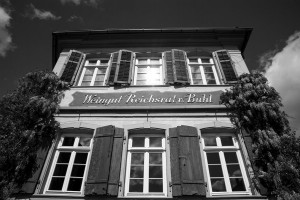 We, or rather I, started with their basic Riesling table wine, and also a couple of other basic table wines, nothing complex but all very lush, round and fruity. "This is wonderful" I thought to myself as I looked across the bar at these three open bottles of wine and my lovely hostess. Communication became a lot easier, she spoke in German, I spoke in English, neither of us understood a word the other was saying and yet we had no trouble getting along, I just smiled and she smiled back. She went back to the fridge and got out the next flight of four wines and opened those as well. Now we were getting into the better stuff, the QMP and sweeter dessert wines.
I watched as she opened a Kabinett, a Spatlese, an Auslese, and finally a Beerenauslese, and so I proceeded to taste them all in that order. And of course given that I was alone, each taste was a good 3-4 ounces. A quick glance at my watch as I tasted the Auslese told me it was only 11:15, still plenty of time, besides if the shoe shop was any good my dear wife could easily run ½ hour late or more. That was the last thought I had about time.
The Beerenauslese was marvelous, now I was in my element, and by now I was getting a little intoxicated as well. I went on and on about how great the Beerenauslese was, talking with both my mouth and my hands at the same time. She turned back to the fridge and got out another two wines and popped the corks. Another two Beerenauslese wines, like I needed more to taste. As she poured the next two glasses I thought to myself, here I am alone in this wine shop with this very pretty Fraulein, drinking glass after glass of great white wine without a care in the world. Did I ever think that I could get into trouble in this situation, hell no, I was living every man's dream. Pour me another glass dear, this nectar just keeps getting better and better. I am in heaven I thought, and obviously I must have lost track of the time. Both wines were great, luscious, full and rich, sweet yet nicely balanced with a youthful acidity, from the great 1983 vintage.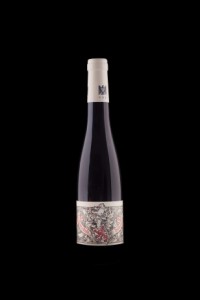 Suddenly my moment of pure bliss came to a crashing halt, the bell on the door to the wine shop rang and in came my wife. "Hello dear, I thought I might find you in here, did you know it is 12:30 and you are 45 minutes late. Get up, it's time to go."
Like a lost puppy suddenly found, I dutifully obeyed. One look at my hostess told me she was just as surprised and disappointed as I was that our magic moments together had abruptly ended. Probably all for the best because I had no idea how much more tasting I could do before getting into trouble. My wife summed it up best by remarking after we left the shop that it was a good thing she scooped me up when she did before the blonde hostess did. She went on to say that my blonde's big blue eyes were all over me. Funny I thought to myself, I had not noticed, ya right!
So to get out of trouble, I asked her about what was in the heavy shopping bag she now had me carrying. That immediately changed the subject to shoes, which went on long enough to allow me to fall asleep in the car on the drive back to Strasburg. Needless to say, while snoozing in the car I was not dreaming about baby shoes.
Blonde hair, blue eyes, and as much wine as you can drink, all to myself. I have such fond memories of that magic moment at Weingut Reichstrat Von Buhl.
If you ever see Reichstrat Von Buhl wines for sale in your local liquor store  or wine shop by all means you should buy them. I do not see them very often in Quebec and Ontario liquor stores, but they are always reasonably well priced German wines, and I have always found their price/quality ratio to be great – low price for a high quality wine.
Reg