If you get a bad bottle of wine at a restaurant, you need to advise the sommelier immediately. He/she will taste the wine themselves, and if the wine is not good, they will replace the wine and taste the replacement themselves first, to make sure it is good. See my earlier Post # 4 dated February 3, 2016 for more details about unacceptable restaurant behavior by refusing a good bottle. It is also not acceptable to drink half the bottle and then tell the sommelier that the wine is no good.
When your waiter presents the unopened bottle to you at the table, this is your one opportunity to inspect the unopened bottle before you own it. You have about 15 seconds to conduct your investigation and check the following:
Make sure your wine is from the right year, restaurants often substitute a younger vintage without reprinting the wine list.
Check the foil wrapper for signs of seepage, and for signs of the cork having been pushed out, this is a good reason to refuse the wine.
Check the condition of the cork in the bottle, you want to be sure the bottle has not been stored standing up, so you want to see evidence of a moist cork on the bottom and the sides, especially near the bottom of the cork.
Check the wine for a proper fill level in the neck of the bottle. If you are ordering an older bottle aged 20 years or more, some evaporation is acceptable but under no circumstances should you accept a bottle with less than a high shoulder fill. An older bottle from a restaurant wine list is going to cost top dollar, so this is no place to be experimenting with a suspicious bottle.
Most of the time the wine is fine and in excellent condition, sometimes the wine can be spoiled, but that does not happen very often today. It is important to understand that a bad bottle can be the result of poor storage by the restaurant, or it can be the fault of the winery or producer with either a bad cork or poor winemaking. So obviously the restaurant is often not to blame for a bad bottle.
And what happens when you open a bad bottle from your own wine cellar? Who gets the blame for that one? I have been a wine collector for 40 years and in all that time I have only ran into bad bottles once. It was actually a very bizarre experience. I bought 6 bottles of 1988 Chateau Rabaud-Promis as a futures offering from the SAQ in Quebec and took delivery of the wine in 1991. A Sauternes, with 13.5% alcohol level, from a great year made by a property that had recently greatly improved their quality level. The colour of the wine was a deep luscious gold, promising years of improvement ahead of it as it matured further in the bottle.
About 3 years after taking delivery of the wine, in 1994 or 1995, on conducting a routine inspection of bottles in my cellar I noticed much to my surprise that 3 of the 6 bottles had turned a cloudy white in colour, and the corks were being forced out of the bottles. There was some seepage from one bottle and when I tasted it the wine was sour. These 3 bottles had undergone a second fermentation in the bottle, and they were clearly spoiled. However, the other 3 bottles were still in pristine condition. Obviously, with half the wine good and the other half bad, the storage conditions (my cellar) were not to blame. The winery may have been at fault, maybe some yeast spilled on some corks, maybe a few corks had fungus spores embedded in them.
I should have kept my purchase receipt and returned the bottles to the SAQ for refund or replacement, but by then the receipt had long since been thrown out – my mistake. Keep your purchase receipts, most retailers will reimburse or replace a tainted product, repeat business depends on it.
As for the surviving three bottles I am pleased to report that they were great. I tried one in 1995, another one in 2010, and the last bottle about 6 weeks ago. It was excellent. Neil Martin wrote for The Wine Advocate in April 2012 the following tasting notes on the 1988 Chateau Rabaud-Promis:
Tasted at the property in Sauternes. The fantastic Rabaud Promis 1988 has a glorious bouquet with an almost Barsac-like persona: overripe oranges, marmalade and quince, all with great purity and control. It just unfurls with each swirl of the glass. The palate is extremely well balanced with a fresh, pure, life-affirming entry. Again, there is that keen thread of racy acidity that is succinctly entwined with the fruit. It has ample botrytis and is supremely well balanced towards the elegant, refined finish. The persistency is probably just a little longer and delineated than the 1983 or 1986. This is one of the best Sauternes wines of the vintage. Tasted April 2012.
Neil Martin gave this wine a score of 95 points in 2012.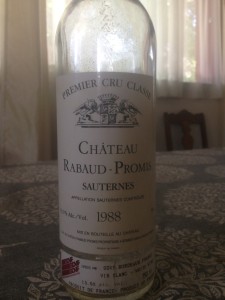 When I tasted the wine six weeks ago it was fully mature, yet full of fruit, lovely acidity to maintain a perfect balance, with no signs of having past its peak. Aromas on the nose and tastes on the palate were all in line with Neil's comments: orange, marmalade, quince, mangos, pineapple, and apricots with great balance and a sturdy alcohol backbone. Wonderful aftertaste lasting over a minute leaves you wondering what more one could expect from a Sauternes dessert wine.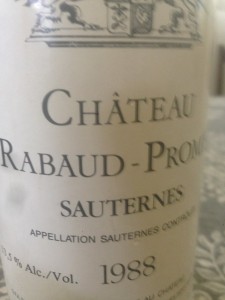 So six bottles of the same wine, same year, all bought at the same time and subject to the same storage conditions. Three go bad and three are magnificent as long as 26 years later. I do not think the winemaker was at fault, I think the corks must have been exposed to a yeast or fungus that caused a second fermentation to take place. In over 40 years of wine collecting that is the only incident of a bad bottle either from my cellar or at a restaurant that I have ever run across.
Screw top caps on many lower end wines eliminates the possibility of bad corks spoiling those wines, so in future corks will be more limited to upper end wines meant to take longer aging.
When a bad wine comes to you at a restaurant, flag it right away and let the sommelier deal with it. When a bad wine comes from your cellar, make sure it is an isolated case and not a result of poor storage conditions. If you have kept your purchase receipt and the purchase was fairly recent, you might get lucky and convince your retailer to reimburse you, but then again you might just as easily be out of luck. Fortunately, this will not happen to you very often, if ever!
So don't worry, just uncork another bottle, it will probably be fine.
Reg.