If you consider yourself to be a wine collector or wine connoisseur your tasting experience and wine collection are incomplete unless you have experienced and/or own vintage Madeira wines. At their best they are extremely old, extremely rare, and extremely good.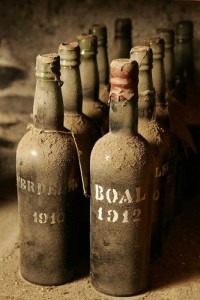 In North America you will not find vintage Madeira wines readily available, in fact you will be lucky to find them in your local liquor store or wine shop at all. If you ask your local wine retailer for any Madeira wine you might be directed to either a 5 or 10 year old Madeira NON VINTAGE wine which is usually a golden amber color, and can be anything from a bone dry Sercial to a quite sweet Malmsey.
Madeira wines come from the island of Madeira, which lies about 200 miles west of Morocco in the Atlantic Ocean. Madeira is a colony belonging to Portugal. The island of Madeira has been producing wine for hundreds of years.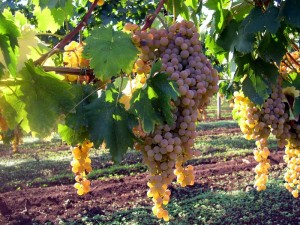 Think of Vintage Madeira as similar to Vintage Port, another product of Portugal. Both are fortified wines, Madeira is fortified with brandy, and Port is fortified with a grape brandy called "aguardente". The intent with both is to stop the fermentation process leaving more residual sugar in the wine, making it sweeter, and to boost the alcohol content which will now range from 18-21% alcohol (verses 12-14% in most wines).
Madeira has one added feature in its production process, the wine is actually heated, almost cooked. Today that heating process is done passively in hot warehouses. Through the 17th and 18th centuries the heating was accomplished by long sea voyages under the hot sun.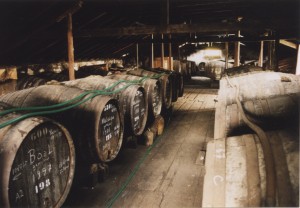 Vintage Madeira was extremely popular in the United States before the Civil War, for over 100 years between 1760 and 1860. Vintage Madeira was used to toast the American Declaration of Independence on July 4th 1776, and the Inauguration of George Washington, the first American President, in 1789. The popularity of Vintage Madeira only tapered off in the 1860's because two different events destroyed most of the grape vines on the island, the oidium mould virus in 1852 and the phylloxera grape vine aphid a few years later. Most wine making on the island stopped completely and only older Vintage Madeira wines were available in diminishing quantities as they were released for sale. Vintage Madeira is typically aged in cask for 20 years before being bottled and released for sale. So by the year 1900 there was not much new wine being made and much of the wine in cask had now been bottled and released for sale. Quantities dried up, interest from consumers dried up as well.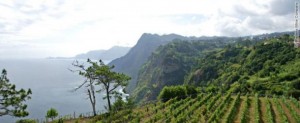 Today the wine industry on Madeira has reinvented itself. Many of the major Madeira producers , such as Leacock's, Blandy's, and Cossart Gordon have all banded together under the name of The Madeira Wine Company. The major grape varieties grown are Sercial (the driest), Verdelho (slightly sweeter), Bual (medium sweet), and Malmsey (sweet). All are green grape varieties. Producers make 3, 5, 10, 15, 20, 30, and 40 year old variations of each of these 4 main grape types, and then vintage Madeiras in addition.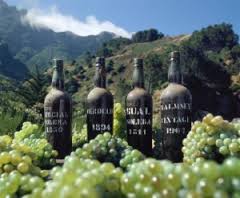 You can still buy a vintage Madeira today, but a "vintage" wine is not made in large quantities, and is still aged in barrels for 20 years before being released for sale. Madeira wine makers also made "Solera" wines. Basically a solera wine is made from a vat that was started in that particular year. So an 1871 Cossart Gordon Bual Solera is a wine made from a vat of the Bual grape that was started in 1871, and over the years the producer may drain off and bottle up to 10% of the vat at a time, replacing it with new wine of the same grape type. This may be done up to 10 times before the entire remaining wine in the solera vat must be bottled. So the Solera is never diluted by more than 10% new wine at any time. The objective is to have a vat of nicely aged Maderia wine that is periodically given a kick by introducing 10% fresh wine to add life and zip to the mix. Soleras will rival Vintage Madeiras in flavor, complexity and aging potential.
Vintage and Solera Madeira wines are both rare and expensive. They are truly the longest aging wines on the planet. It is not unusual to see a Vintage Madeira wine tasted at 150 and even 200 years of age and still tasting in perfect condition and capable of continued aging. This makes them great collector's items. If you want a wine to celebrate your great grandfather's 100th birthday this year, look for a 1915 or 1916 Vintage Madeira, they are still considered young and vibrant, and will be in better condition than great grandpa!
Madeira wine is stored standing up, the only wine to be stored that way. If you look at photos of the cellars of Madeira producers they all store their wine standing up. The reason is that the high acidity in the wine that is required to balance the high sugar content will rot the cork quite quickly if the bottle is stored lying down.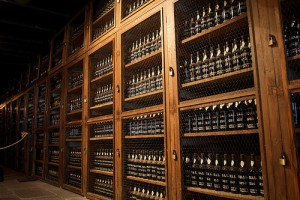 To give you some idea of pricing, check out the Rare Wine Company's website at www.rarewineco.com where you will find an 1865 Cossart Gordon Malvasia (Malmsey) Solera for $845.00 US, or an 1871 Cossart Gordon Bual Solera for $825.00 US. More reasonably priced are the 1968 D'Oliveira Bual Vintage Madeira at $185.00 US or RWC's Historic Series of non vintage Sercial, Verdelho, Bual, and Malmsey at $49.95 each.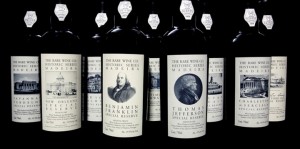 You may on occasion find an older Vintage Madeira from the 1850's or 1860's but be prepared to find it priced at $2,000 – $3,000 US. Keep in mind that you are in fact buying a piece of history at that point, and the wine should still be in perfect condition, unlike any other wine of a similar age.
Many years ago I came upon a good source of old Vintage Madeira wines and I purchased a few different bottles from different years ranging from 1848 to 1920. I bought two bottles of the 1920 Cossart Gordon Malmsey because my mother-in-law was born in that year.
We tasted the first bottle in May 1990 on the occasion of my mother-in-law's 70th birthday. This was my first tasting experience with a Vintage Madeira and we were six adults enjoying the wine. What a tasting experience. We were all completely captivated by this gem. The wine was a brown amber colour, orange on the rim, stunning legs with a rich creamy viscous texture to the wine as it lazily dripped down the glass in thick orange droplets. On the nose the wine gave off aromas of caramel, orange, licorice and hazelnuts, the one word to describe the combined fragrance would be "stunning". The texture was just as thick on the palate as it appeared in the glass, with a thick satin texture gently coating the tongue as the flavours started to emerge.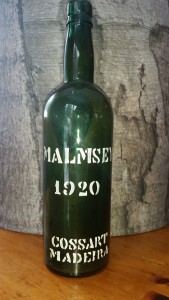 On the palate every primary aroma delivered to the nose emerged onto the tongue as well, but each primary flavour quickly evolved into many more complimentary flavours so that orange developed into a burnt orange, and a candied orange, and a tangy orange, while caramel opened up into butterscotch, honey, and maple syrup. The hazelnut evolved into roasted almonds, coffee and chocolate. The entire mix was topped off with an elevated alcohol level that held the overall menagerie together and produced an aftertaste of complete harmony that just went on and on for at least 3 minutes. One could not help but feel overwhelmed and humbled in the presence of such a superb wine. Everyone was captivated. My father-in-law was simply blown away, and after a multitude of toasts he proudly proclaimed that this was just the best wine he had ever tasted. It was indeed a memorable occasion that will remain forever etched into our collective memories. Two months later my father-in-law passed away from a sudden heart attack which made this one tasting experience that much more important to our family. This moment in time was one of the last truly happy moments we shared with him as a family, a wonderful man and a wonderful occasion to remember him by.
Fifteen years later we celebrated my mother-in-law's 85th birthday in May 2005, so we used the event to justify opening my last bottle of the 1920 Cossart Gordon Malmsey. It was every bit as good as the first bottle we tasted 15 years earlier, no decay, no sign of aging, no sign of decline, no sign of any softening of flavours or aromas. Another outstanding masterpiece that completely dominated the evening.

Doing some research on line, I came across the following comments on this wine from various tasting events:
According to the late Noel Cossart, this wine was made from the last of the Malvazia Candida grapes grown in the Fãja dos Padres vineyard, sited at the foot of a very high cliff, to which access was only by boat. Probably the rarest and most romantic of all 20th century madeiras.
This wine has become a legend and is arguably the best example of Malmsey produced during the 20th century. This cultivar was extinct as of the mid-20th century. A few years ago, one single vine of the Candida was discovered in a patch of cactus. The 1920 Cossart-Gordon shows a light maple color, mild and engrossing, dry tea, toffee and sweet caramel aromas. Big, bold, balanced and elegant. Plenty of acid and an incredibly long and lively finish with a touch of butterscotch. This wine will outlive my grandchildren (my daughter just turned two years old, notes from 2004).
According to www.winesearcher.com there is only one location in North America where this wine can be bought which is the New York Wine Warehouse where it can be purchased for the equivalent of $1,600 Cdn. per 750 ml bottle.
I kept the empty bottle, and I put a cork stopper back into the empty bottle and periodically removed it to see how long the aromas of that fabulous wine would last. As I write this post now in March 2016 some 11 years since opening the bottle, the aromas that continue to fill that empty bottle are still full, vibrant, and very much remind me of all the tastes and aromas of that tasting experience. You should try that sometime when you open a bottle of your best, put a stopper on the empty bottle and remove it from time to time to see how well the bottle residue retains the original aromas on the nose. This works especially well with dessert and fortified wines, not quite as well with old Bordeaux, and generally not at all with lesser wines.
To any true wine lover, the opportunity to taste an old Vintage Madeira wine is the opportunity of a lifetime, the chance to taste "history in a bottle". As Winston Churchill said to his guests at a 1950 tasting of a rare 1792 vintage Madeira, bottled in 1840, at a dinner party in his honor on the island of Madeira: "Do you realize that when this wine was made Marie Antoinette was still alive?" At 158 years of age when that tasting took place the wine was still in fine condition, still displaying Madeira's typically rich, sweet, and velvety taste, and room filling aromas of butterscotch, cocoa and coffee.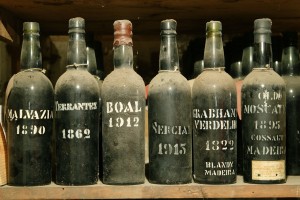 Find one, buy one, store it standing up, save it for a special occasion, and enjoy. Once opened, the wine will keep for several weeks, so plan to enjoy it over more than just one evening.
Reg.