On Valentine's Day, Sunday February 14, 2016 we celebrated with the family the arrival of our grandson earlier that week. We were eight adults and two children sitting down to a lovely roast beef dinner, so I decided it was time to try a bottle of the 1986 Chateau Leoville Las Cases.
The 1986 Chateau Leoville Las Cases has always had a terrific reputation as one of their best vintages, one of their most tannic wines and made in the old style of being extremely tight and closed until the day finally comes when it opens up to reveal the magic within. Since the wine was now 30 years old I figured it should be time to give one a try, by now it should be showing well.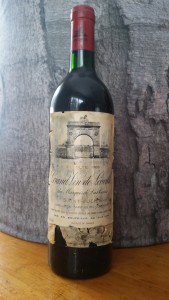 I opened the bottle two hours before dinner, and decanted it a good half hour before dinner. The nose from the decanter smelled very promising, but I wanted the wine to open up before we sat down to dinner.
We had started with a shrimp appetizer and some champagne to toast our new grandson. We started our main course with another red wine as a tune up to the Leoville main event. When it was time to pour the wine, everyone remarked on the fabulous nose on the wine in their glass. Full of aromas of cedar pencil, tobacco, earthy tones, spices, cherries, plums and cassis, this promised great things to come on the palate. Once on the palate it became immediately apparent that this wine was completely shut down. Hugely tannic, it was so dry you could feel your cheeks getting sucked into your jaw, so much so that your only sensation was of bone dry tannins. There was no fruit on the palate at all, and the wine was so dry and tannic that there was very little aftertaste either.
So everyone began the process of swirling their wine in the glass, desperately trying everything possible to knock down that tannic wall and get at the prize behind those tannins. After much coaxing about 45 minutes later the wine started opening up a little, but only a fraction of what one would expect to match the wine's nose. The palate started to display some fruit, some cedar, and some tobacco, but it stayed stubbornly closed the rest of the evening, promising more but refusing to open up properly.
I should have kept a partial glass to sample again later to assess exactly how long it took to open up properly, but alas I did not have the patience or the foresight to do so. This wine is very highly rated by several tasting experts and critics. Wine Searcher.Com gives the average rating at 95 points, average cost $580 CDN, and ready to drink from 2000 – 2035. Robert Parker rates the wine 99 points and recommends drinking between 2003 and 2035.
I have read tasting notes from tastings held in 2015 and 2014 from others who have been more successful at getting this wine to open up. In one case the taster had decanted the wine for a full six hours before tasting it. If you consult Leoville's website, www.domaines-delon.com , you will find that the 1986 Chateau Leoville Las Case is rated by the estate itself as an exceptional year with exceptional aging potential, and requiring 3 hours decanting time.
My conclusion is that the wine is still very tannic and closed, and will not be ready for another 3 years minimum. When I do go to taste it again, I will be sure to allow several hours decanting time before tasting. I would rate this wine a 92 based purely on the nose. One must assume there is a lovely wine waiting to be let out from behind that wall of tannin. However, when I read tasting reviews on Chateau Leoville Las Case from many different years there are two common themes: first, the wine is often very tannic and closed for up to 30 years, sometimes longer, and second, there can sometimes be considerable bottle variation, meaning that some bottles of the 1986 vintage may shed their tannin sooner than others.
So I am going to assume my bottles, which I had bought as futures in 1988, are still stubbornly hanging onto their tannins a little longer than others. My only concern is that the 1986 Leoville does not evolve more like a 1975 by staying dried out and never really letting the wine shed its tannins before the fruit is gone. That would indeed be a shame. I have tasted several different vintages of Chateau Leoville Las Case, including 1981, 1982, 1983, 1985, 1988, and 1989, and the 1986 is far more tannic and closed than all of these other years.
This is a mysterious wine, a potentially great wine that promises everything on the nose, yet stubbornly gives up nothing on the palate. If you own this wine, sit on it longer, at least another 2 years, and when you do open it plan to decant it at least 4 hours before you plan to taste it.
Reg.