On November 4th the Reg's Wine Blog editorial staff descended upon the Montreal Wine Show to visit with some of the 160 exhibitors from 19 different countries, and to taste as many of the 1,200 different products as we could. Our focus was naturally on the more than 800 products that were not available for purchase in Quebec. This year's themes for the show were the Syrah grape, Whiskies, and the wines of Chile and Argentina.
The exhibition hall is huge, and it quickly becomes readily apparent that there is no way of covering more than 10-20% of what you want to see and taste. In fact if you taste 30 wines at the show (as we did) over a 3-4 hour period you have tasted only 2.5% of the wines available for tasting. So you have to be very selective, and knowing what you really want to taste ahead of time becomes very important.
I started by selecting 4 or 5 producers that I knew well, and another 4 or 5 who had recently won awards at the show the day before as one of the top ten Syrah wines. We rounded out the other producers by selecting another 4 or 5 that we wanted to taste because we had heard good things about their wines and wanted some good first hand confirmation of what we had heard.
We had short visits with Sterling Vineyards from the Napa Valley, Chateau Ste. Michelle from Washington, and Osoyoos Larose from the Okanagan Valley in B.C. I have always been impressed with Osoyoos Larose who make the best Bordeaux red style wine in Canada. I visited their winery many years ago on a wine tasting tour of the Okanagan Valley and their red was a standout then, so I am pleased to say that 25 years later their Osoyoos Larose red is just as good, if not better, than I remember.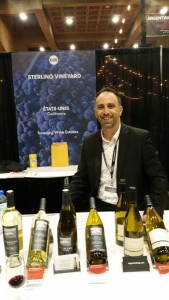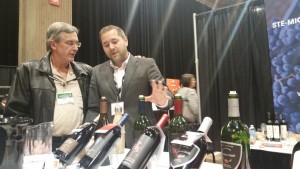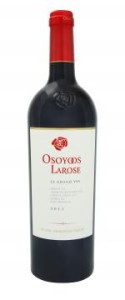 We spent more time with, and sampled many more wines at Coppola from California, Leon Beyer from Alsace, Zuccardi from Argentina, Vina Valdivieso and Emiliana Organic Vineyard from Chile, and my favorite George Vigouroux Wines from the Cahors region of France. We tasted no less than 5 wines with each of these six producers, and they were all excellent wines, in fact there were no weak or poor wines tasted all evening.
At Coppola's tasting booth we focused on their Director's Cut wines. The Director's Cut 2014 Chardonnay was a great example of California Chardonnay, full, chewy fruit with just enough oak to please most people. On the palate you were treated to the taste of pears, peaches, pineapple, and tangerine coated in toasted caramel, that finished like a crème brulée that lingered on your tongue, delicious. The Director's Cut 2013 Zinfandel was nice and fruity on the nose with aromas of rum and raison, black currants and ripe cherries, delivering on the palate flavours of sweet raspberry jam, vanilla and exotic spices.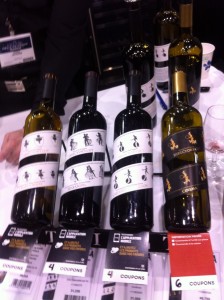 The Director's Cut 2014 Cabernet Sauvignon was still very young, but showed a lot of class. The wine is a blend of 85% Cabernet Sauvignon, 10% Petit Verdot, and 5% Cabernet Franc, and at 14.5% alcohol this wine was packed full of black cherries, raspberries, currants and dark chocolate, leaving you with a smooth polished finish that evolves into a mocha and coffee aftertaste. A great young wine that will be fun to follow as it evolves in the cellar. The best of the bunch was the Director's Cut 2013 Cinema, a blend of 52% Zinfandel, 39% Cabernet Sauvignon, 5% Petit Syrah, and 4% Merlot. On the nose this wine delivered very concentrated berries, spices, cinnamon, cocoa, and black pepper. On the palate we found cherries, plums, vanilla and toasted oak, all seamlessly woven together into a silky lingering aftertaste. This wine is young, and with a 14.4% alcohol content there are years of evolution ahead of it in the bottle. Try these wines, they are very satisfying and very solid efforts from Coppola.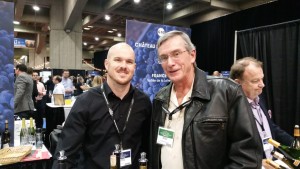 Our next stop was in the Chilean wine section, where we visited the Valdivieso winery and were hosted by Luciano Fioro, their North American Sales Director.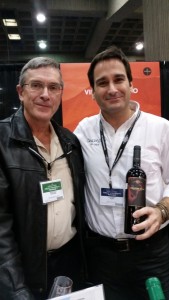 They had 7 wines available for tasting and we tasted 4 of them. Their 2013 Chardonnay from the Leydo Valley was fresh, medium oak, lots of fruit on the palate without being overwhelming, and well priced at $24.70.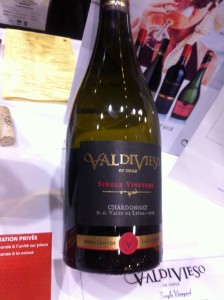 We then tasted their Caballo Loco Grand Cru Limari 2013 made of 100% Syrah, which as advertised delivered a very distinctive mineral flavor characteristic of the terroir of the Limari Valley.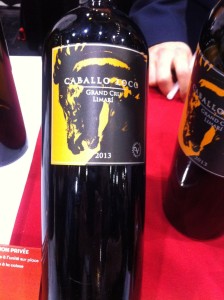 We followed that with the Caballo Loco Grand Cru Sagrada Familia 2013 which is a blend of 40% Cabernet Sauvignon, 40% Carmenere, and 20% Malbec.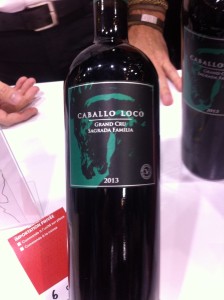 The grapes are sourced from the Curico Valley, and it is there that the Malbec grapes thrive and contribute intense and vibrant flavors and aromas to the final blend.
Both these Grand Cru wines retailed at the show for $42.50 per bottle. But to be honest, while they are both very good wines, they were dwarfed by the last wine we tasted, the Caballo Loco Number Sixteen which was priced at $73.25 per bottle. This wine is marketed and sold as a non vintage wine, but this is really a solera type of wine, a solera being a blend of more than one year. Soleras were common in Madeira where you could either buy old Madeira wines from a specific vintage year or from a solera, which typically was a large vat that held wine from several previous years, allowed to mature over many years. In Madeira it was normal to continue a solera for up to 100 years, and every year you would typically drain off 10% of the solera contents for bottling, and replenish the vat by 10% from the latest harvest. So the Madeira wine from this solera vat was never more than 10% of any given vintage, and some could argue the solera contained some small percentage of wine as old as 100 years. The idea was to add complexity, balance, consistency, and maturity to the finished product.
With Valdivieso this product was started in 1994 when vintage Number One was created from a collection of wines from previous vintages, and eventually released for sale into the market in 2001. Today Number Sixteen has been released for sale, and it consists of 50% wine from the 2011 vintage and 50% from Number Fifteen. Next year Valdivieso will release Number Seventeen which will be composed of 50% of the 2012 vintage and 50% of Number Sixteen, and so on. Does this sound complicated? Maybe to some of you, and if so you can take comfort in knowing that Caballo Loco translates into "Crazy Horse".
So how does the wine taste? The short answer is "great". The wine is silky smooth, sophisticated, evolved and without the harsh edges associated with a younger vintage, so the solera style is clearly evident. The wine is a blend of several grapes including Cabernet Sauvignon, Malbec, Syrah, Cabernet Franc, and Carmenere, the same grape types are not used in every vintage, and the grapes are sourced from several different locations throughout Chile, often not the same locations.
On the palate there is a wide range of tastes, solid fruit, strength, body, and a lengthy aftertaste. This wine offers up a lot of power and character, but since this is my first tasting of this wine I have no idea if the next release Number Seventeen will taste similar, completely different, or mildly different. If Valdivieso wants to duplicate this style and taste on an annual basis, that would be just fine with me. This wine was offered for sale at the show for $73.25 per bottle. This may seem like a lot for a Chilean red, but this is their top of the line product, expensive to produce, and will age nicely for over 20 years. This wine has been rated by most critics in the 90 point range, and tastes on a par with several Bordeaux 4th and 5th growth wines that typically retail for double the price or more, and those Bordeaux will require many years of cellar time to reach their prime while this Caballo Loco Number Sixteen can be ready to drink in 2-3 years and hold for 15-20 more. A solid, serious wine.
We next tasted across the isle at Emiliana Organic Vineyards, still in Chile. I was completely blown away by the staggering array of wines they produce, 29 different wines to be precise. Their top of the line product is a wine they call Ge which we did not taste, followed by the Emiliana Coyam 2012 which we did taste.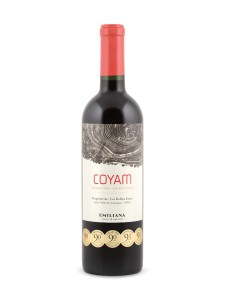 Coyam is a red blend consisting of 38% Syrah, 31% Carmenere, 19% Merlot, 10% Cabernet Sauvignon, 1% Mourvedre, and 1% Malbec. A lovely nose of nuts and dark fruits, followed by cherries, strawberries, tobacco, cedar, spices, smoke and vanilla on the palate, finishing smooth, balanced and long. James Suckling (ex Wine Spectator critic) rated this wine 95 points in 2015, and this wine gets re released for sale in Ontario December 10th where it will retail for $29.95. This wine is well worth purchasing at that price.
Next in their lineup, Emiliana has their Signos de Origen series of wines from exceptional terroirs which consists of a Pinot Noir, a Syrah, a Cabernet Sauvignon, a Carmenere, a Grenache/Syrah/Mourvedre blend, and for those who like whites a Chardonnay/Viognier/Marsanne/Roussanne blend. They also have an Emiliana Late Harvest dessert wine that is largely Sauvignon Blanc blended with some Gewurztraminer. Forgetting nothing, they have a sparkling white, and then eight more wines in their Novas series, three of which are whites and five reds, three of those reds are blends and two are individual varietals. The Novas series is valley or regional in focus, as the terroir and climate of each can be so different. Their final series of wines is their Adobe series consisting of eleven more wines, four whites, one rosé, and six reds. These are their base line products, they are all single varietal wines designed to display the purest form of each single grape variety grown on their estates.
We tasted several of these in rapid succession, they were all good, clean expressions of individual grape varieties, and the blends were all balanced and silky smooth. What impressed me the most was the different effect of terroir in the Signos series where a more rocky soil in one valley or more sun in another valley leads to quite different tasting wines. The Emiliana lineup of 29 different wines is really quite amazing, all organic, all different, and so much variety from one producer. This was an education all by itself.
As you can see, there was so much to see, to taste, to learn, that I need two separate blogs to cover that small portion of the show that we were able to visit. Thank goodness for my Reg associates who were generous with their tasting comments, and encouraged me to move along in a timely manner, otherwise I might still be there at that Emiliana booth tasting their lineup of wines.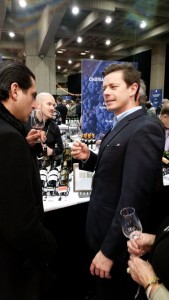 In my next blog I will cover Part 2 of the show.
Cheers,
Reg.