In this post I will cover the remaining wines we tasted from Zuccardi wines in Argentina, Leon Beyer wines from Alscae, and George Vigouroux wines from Cahors. What great wines, not one weak entry was tasted all evening.
La Grande Dégustation de Montréal 2016 took place a month ago, the Reg's Wine Blog team attended on Friday November 4th. Part one of this report was published earlier this week on November 29th.
Wine critics just love Zuccardi wines. At the wine show Zuccardi had 7 of their wines available for tasting, ranging in price from $21.00 for the Zuccardi Q Chardonnay 2014 (rated 89 points by Parker, and 92 points by James Suckling), to $93.50 for the Zuccardi Aluvional La Consulta 2012 (rated 93 points by Parker).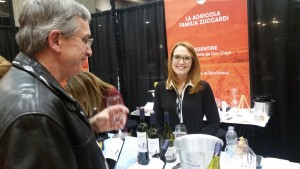 Sebastien Zuccardi produces 24 different wines, and most of them win awards and very high scores from wine critics on a regular basis. Here is the profile of the seven wines he had available at the show to taste and purchase:
Zuccardi Q Chardonnay 2014 – $21.00 (in SAQ 12258674) rated 89 by Parker, 92 by James Suckling.
Zuccardi Q Malbec 2013 – $22.00 (in SAQ 11218460) rated 91 by Parker.
Zuccardi Q Cabernet Sauvignon 2013 – $25.35 (not in SAQ) rated 90 by Wine Spectator.
Zuccardi Emma Bonarda 2014 – $41.25 (not in SAQ) rated 92 by Parker.
Zuccardi Tito Paraje Altamira 2013 – $41.25 (not in SAQ) rated 90 by Wine Spectator, 92 by Wine Enthusiast.
Zuccardi Zeta 2012 – $44.50 (not in SAQ) rated 92 by Parker
Zuccardi Aluvional La Consulta 2012 – $93.50 (not in SAQ) rated 93 by Parker.
Sebastien's grapes come mostly from the Uco Valley, where different soil and climate variations produce micro climates and noticeable differences in mineral content. The effect on his mostly Malbec grapes is quite pronounced. To their credit Zuccardi had 4 of their premium wines at this show (the most expensive ones listed above), and it was a real treat and an education to be able to taste them all together. It is only when you get to taste them one after the other that you are able to distinguish the difference between them.
The Zuccardi Aluvional La Consulta 2012 was so good, 100% Malbec grapes, 15.5% alcohol, with a nose of complex fruit including blueberries, prunes, ripe cherries, fresh herbs, violets and rose petals. On the palate the impression was thick and juicy, but perfectly balanced with a lively acidity, ripe tannins adding structure and aging potential, all finishing in a long smooth aftertaste. This wine was every bit as good as the 93 points Parker gave it, and certainly worth the $93.50 sticker price.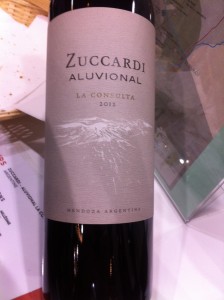 Sebastien's other specialty wines (the Tito named after his grandfather, the Emma named after his grandmother, and the Zita which is a blend of mostly Malbec and 13% Cabernet Sauvignon) were not far behind the Aluvional in both quality and pleasure delivered. Zuccardi wines are clearly full of character and must be experienced if you want to appreciate what Malbec can do at high elevation in unique micro climate environments.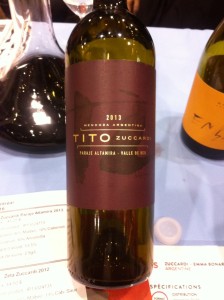 I spent some time with Marc Beyer of Léon Beyer wines from Eguisheim, Alsace. Marc is 14th generation Beyer family, who have been winemakers and growers since 1580.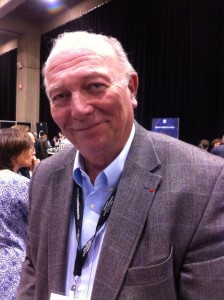 We had a good discussion about the Beyer family trademark and tradition of making dry wines (even though he does make sweet late harvest dessert wines in the best years when the weather permits). When I tasted his late harvest 2000 Pinot Gris Vendange Tardive wine it was indeed drier than most Alsatian late harvest wines, and that allows for more appreciation of all the aromas and flavors in the wine that shine through.
Marc and I tasted the 2013 Muscat Reserve, the 2009 Riesling Les Ecaillers, the 2008 Gewurztraminer Comptes D'Eguisheim, and the 200 Pinot Gris Vendange Tardive in that order. The Muscat was quite delicate and yet bursting with fruit flavors, a good drinking wine.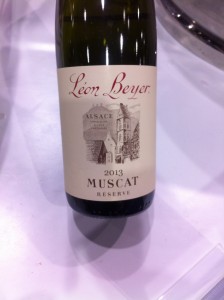 The 2009 Riesling Les Ecaillers was dry, refined, and delicately fruity, mineral and floral on the nose, rich glycerine content in the glass, and on the palate citrus rinds, toasted almonds and hazelnuts, and a mouth watering salinity. A great dry Reisling that Parker scored at 91.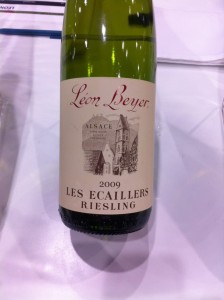 The 2008 Gewurztraminer Comptes D'Eguisheim delivered ginger and cinnamon aromas on the nose, peach and apricot flavors in the mouth, dry without being sweet, intensity without weight, leaving your mouth perfumed and refreshed – wow! The wine finishes in the mouth long and aromatic, with just a touch of sweetness to balance the acidity. A very nice wine.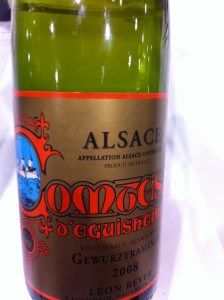 The 2000 Pinot Gris Vendange Tardive was rich, full bodied, well balanced, and lightly smoked. In the mouth you tasted dried fruits, peach and apricot, mid sweet but tangy, leading to a long smooth aftertaste. I am a big fan of Alsace Pinot Gris for the smoky, spiced character delivered by the Pinot Gris grape, and so I have tasted several. I must admit I thought Marc did a wonderful job of guiding me through and explaining the refined craftsmanship that went into producing such a good example of a drier late harvest Pinot Gris.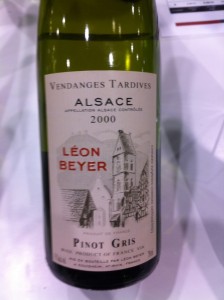 Most late harvest Alsacian wines have too much fruit, and as a result the fruit overshadows and masks a lot of the aromas and flavors. By contrast, the dryer style favored by Marc at Léon Beyer wines is a complete success. Congratulations Marc, you made a believer out of me.
I saved the best for last. My first stop at the show was Georges Vigouroux Wines which was hosted by Bertrand-Gabriel Vigouroux, the main man himself, now in charge of Georges Vigouroux Wines, having taken over from his father George several years ago.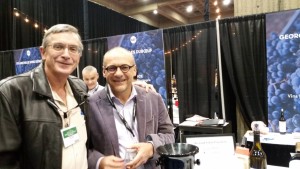 Their tasting booth was perfectly positioned right at the entrance to the show, so it was both my first and last stop of the evening. Bertrand-Gabriel makes both the Chateau de Haute-Serre and the Chateau de Mercues line of wines from Cahors, plus he has expanded into three other districts under different labels. This evening I was primarily interested in tasting his Haute-Serre and Mercues wines (prior to this evening I had never tasted his Mercues wines).
I had visited Haute-Serre and Mercues in September 1986 (read my blog # 12 for details of that visit), and this was before the Mercues vines were planted and before the Mercues cellar was constructed.
I tasted three vintages of the Grand Vin Chateau de Haute-Serre, the 2011, the 2010, and the 2000. It was a good education in tasting different vintages of the same wine. Comparing the differences, I was already familiar with the 2010, which I have described at length in post # 12, so I will use that as my benchmark, rated 92 by Wine Spectator. The 2011 was similar, well structured, obviously young with lots of development potential ahead of it. The fruits were just as intense as in 2010, but the flavors were different, perhaps more cherry and plum in the 2011, less chocolate, mocha and mint. Again the same dryness in the aftertaste.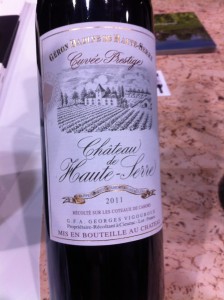 The 2000 Haute-Serre was again different, and showed a more mellow wine, perhaps because the wine had softened with age. It is difficult to assess whether the wine had less fruit because of the vintage characteristics, or because some of the robust fruit has softened after 16 years. I think it is probably some of both. The 2000 is clearly more mature, softer, rounder, no real surprise here, and it will continue to age gracefully for another 10-20 years.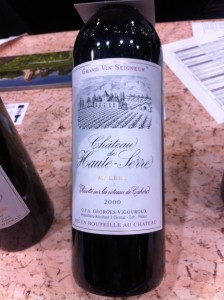 We also tasted the Haute-Serre Albesco Chardonnay, and this was a surprise, a surprise to know that Bertrand-Gabriel had even planted Chardonnay, and also that it tasted so good. The wine was clean, well made, full of Chardonnay flavors without being overoaked, and as a result was both light and refreshing.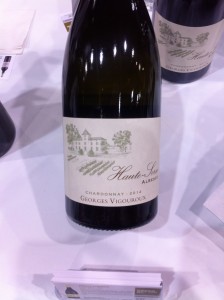 Not available for tasting were two other white wines Vigouroux produces on the Mercues site, the Chenin Blanc Sec and the Chenin Blanc Doux (sweet dessert wine in the half bottle size). I would have loved to taste that dessert wine.
But alas, I was not disappointed because I next got to taste the Chateau de Mercues Grand Vin 2012, which was new to me. The wine was delicious, every bit as good as the Haute-Serre Grand Vin, but again different in taste from Haute-Serre, was it vintage differences, or was it different terroir or soil? Again I would say it was both, but I think the fruits are slightly different. The only real way to compare the two vineyards and the end product is to taste test both the Haute-Serre and the Mercues at the same time from the same year, and we were not able to do that at the show. Subtle differences like maybe more red fruit in the Mercues, and a little more satin smoothness on the palate.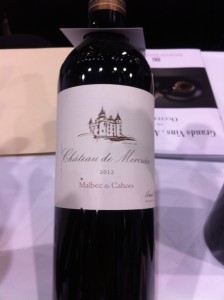 We next got to taste what I consider the best wine at the show, and certainly the best wine I tasted all evening, the 2011 Chateau de Haut-Serre Icone WOW. It was quite funny when I tasted this wine because my first reaction and response was to say just WOW! And this was before I learned what the wine was named. So I asked Bertrand-Gabriel why he named his top of the line product "Icone WOW", and he told he had created such a blockbuster Malbec that he wanted people to respond simply by saying "WOW" when they tasted it, just as I did. So the wine is indeed well named. This wine was available for purchase at the show for $161.00, and believe me it was worth every penny of that price.
The Haute-Serre Icone WOW is 16% alcohol, and that is huge for a non fortified red wine. The wine's color is almost black, and on the nose you smell intense ripe dark fruit, oak, vanilla, dark plums and cassis, just fantastic. On the palate the taste is concentrated, massive juicy dark fruit with well integrated tannins, rich and fat, Malbec at its best. Long and smooth on the aftertaste with lingering notes of spice and leather. I was just stunned by this wine, it was beautiful. The 2011 is rated by Parker at 92, and by the Wine Spectator at 93, and I think those scores may be too low. I also think this wine will get better with a little more time in the cellar, so you can be sure if tasted again in 5 years by the critics, they will raise their scores above 95. WOW, this wine is well named.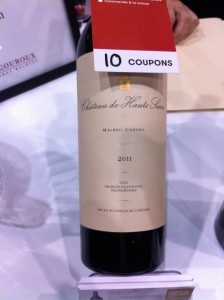 I had a great discussion with Bertrand-Gabriel about the Icone WOW for at least 10 minutes, during which time he told me he decided to make this wine (2009 was the first vintage) to show how great Malbec can be. He produces much less quantity than his Grand Vin Haute-Serre, and he selects only the ripest grapes for his Icone WOW. The wine has scored well with critics in the 3 years that have been released so far, Wine Spectator gave the 2009 – 91 points, the 2010 – 94 points, and the 2011 – 93 points. Parker gave the 2011 – 92 points. Bertrand-Gabriel also produces a Chateau de Mercues Icon WOW that he also started in 2009, that sells for the same price, and is receiving similar high praise from the wine critics. Unfortunately that wine was not available at the show.
At the end of the night, our team finished up at the George Vigouroux Wines booth on our way out the door. I like finishing these shows by going back to the "best in show", the wines I liked the best, and I always make it a point to tell the hosts that, in my opinion, their wines performed the best at the show. Growers always appreciate the compliment, and it gives me one last chance to sample the best wine of the night, and then leave on that high note.
I think Bertrand-Gabriel is making the best, most intense Malbec wines I have ever tasted. While the Zuccardi Malbecs are certainly right up there, I think Bertrand-Gabriel's Icone WOW wines are monumental. My last thoughts on his wines as we were leaving the show was to wonder if consumers would find $161.00 too expensive for a wine from Cahors. If you have never tasted the wine, you might think so. Having tasted the wine, it compares in quality with an expensive Bordeaux classified growth at $300 – $500 per bottle, so in reality the wine is well priced. Congratulations Bertrand-Gabriel, you have nailed it with your "first growth" Icone WOW wines.
As I have said before, wine shows are great fun, very educational, and a chance to learn so much from the producers themselves. As an added bonus, you get to taste and buy many wines that are not available for purchase in your local wine shop. I am always impressed when I attend a show and find that a producer that I think I know for one or two wines, shows up with 6 more, many of which are better than the ones you already like. Your local wine shop will normally only stock one or two products from any given producer, and usually a cheaper bottom of the line product available in quantity. We normally end up judging the producer on how this cheap bottom of the line product appeals to us, and so often the rest of their product line is so much better, and often never available to taste.
On this night Coppola, Valdivieso, Emiliana, Zuccardi, Marc Beyer, and Bertrand-Gabriel Vigouroux were on full display for all to appreciate. Very well done by everyone, and very much appreciated.
Cheers, and let's do it again soon!
Reg