Over the last four months I have tasted several wines, but six in particular have stood out above the rest. From Alsace I will comment on the 1990 Gewurztraminer Goldert Vendange Tardive from Domaine Zind Humbrecht, and the 2012 Chateau de Riquewihr Gewurztraminer Les Sorcieres from Dopff and Irion. From Argentina I enjoyed the Zuccardi Serie A Malbec 2016, from Portugal the 1983 Dow's Vintage Port, from Sauternes the 1988 Chateau Rieussec, and from Bulgaria the 2013 Enira from Domaine Bessa Valley.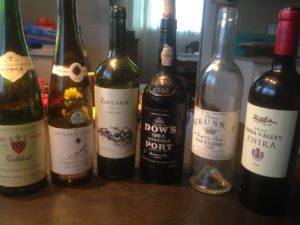 1990 Gewurztraminer Goldert Vendange Tardive, Domaine Zind Humbrecht:
I tasted the 1990 Gewurztraminer Goldert Vendange Tardive, by Domaine Zind Humbrecht, in October 2018. This wine, a 28 year old Alsacian dessert wine, was absolutely stunning. Early in its youth, this wine was rated by The Wine Spectator at 96 points, and by Robert Parker at 97 points, both in the mid- nineties. So naturally my main concern was whether or not the wine had aged well or lost its marvelous power and balance.
The wine displayed a dark golden color and a nose of classic gewürztraminer, lychees and ripe apricots, with a spicy tangy floral scent to it. On the palate the wine was thick and creamy, full of fruit with those same lychees and apricots, but also framed in a round soft honey, hints of fresh lemon peels, cherries and orange marmalade. These secondary flavors to me were indicative of middle age where one would expect lemon flavors to evolve into orange as the wine matures. To have both present in the wine at the same time indicated to me that this wine still had years of life ahead of it. The aftertaste was long and smooth, with no signs of drying out.
This wine is now fully mature, in perfect harmony and balance, and given that it still clings to the flavors of youth, shows every sign of being able to continue giving pleasure for at least another 10-15 years. Drink now on its own, or continue to hold to 2030, my rating 95 points. Winesearcher.com no longer lists this wine, it may get offered for sale at auction, if it does expect to pay about $200.00 US. For comparison and consistency purposes please refer to my previous blog # 55, published January 24, 2018 where I rated the 1990 Herrenweg Turckheim Riesling Vendange Tardive Domaine Zind Humbrecht, and you will see that I similarly rated that wine 95 points and projected a further 10 years of life ahead of it. Normally I would expect to see the Gewurztraminer outperform and outlast the Riesling over time, but these two wines are so well made and so good now that I see nothing but similarities and long life ahead.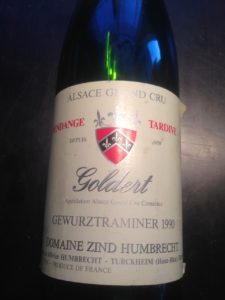 2012 Chateau de Riquewihr Gewurztraminer Les Sorcieres, Dopff and Irion:
I tasted this wine in September 2018, after having bought it at the SAQ for $24.95 (product # 00979658, and currently out of stock). The grapes for this wine are exclusively hand harvested, the wine is left resting 4 months on its lees, then aged between 9 to 24 months before being released into the market. This wine won a gold medal in 2015 at the Selection Mondiales des Vins, and the wine takes its name from the fact that suspected witches were burned at the stake on land where these vines currently grow. The wine itself is a golden yellow in color, with aromas of lychees, peach, honeydew and roses on both the nose and palate.
While clearly this wine is not in the same league as the Zind Humbrecht wine described above, it was very pleasant and enjoyable now. This wine is not made for long cellaring or aging, and should be consumed within the next 2-3 years. It is more delicate and simple, but delivers good value for the money.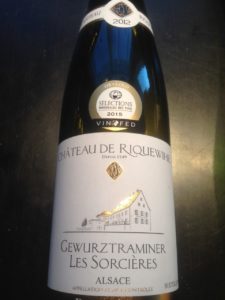 2016 Zuccardi Serie A Malbec, Valle de Uco, Mendoza, Argentina:
This wine was tasted in October and is currently available from the LCBO in Ontario under product # 167619 for $16.95. The wine has been rated at 91 points by Luis Gutierrez at robertparker.com who described it as complex on both the nose and palate, with herbs and chalky tastes derived from the soil.
I loved this wine for the price, getting plenty of prunes, cherries, black pepper and tobacco on the nose, soft and velvety on the palate, fresh, round and elegant, with added chocolate and cherry liqueur on the palate. Lovely lingering fruit that ended with spicy notes on the finish. There is a lot going on in this wine, and for the price this makes this wine an excellent bargain.
The Zuccardi family are prolific winemakers, and they specialize in expressing the soil (terroir) in their wine, and every valley and plateau parcel of land imparts different tastes and fragrances into their wines. So it should come as no surprise that the SAQ stocks 6 different Zuccardi wines, and the LCBO stocks 15 different types. In many ways the Zuccardi group of wines reminds me of the E. Guigal line of wines, in particular how they both maximize the expression of soil (terroir) in their specialty wines. For more information on Zuccardi single vineyard Malbecs please refer to my previous blog # 52 published December 8, 2017.
At $16.95 I would strongly recommend buying this wine while it is still in stock in Ontario.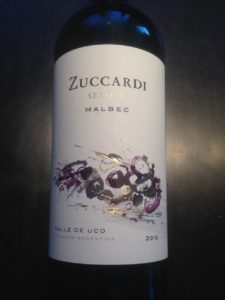 1983 Dow's Vintage Port, Symington:
We opened this little gem at a family gathering in mid November. 1983 was considered a good but not a great year for vintage ports, so at 35 years of age I figured it was time to give it a shot. The wine was outstanding, Dow's is never made as fruity as most of the other major port houses, so I was curious to see if the least fruity of the group would be losing its fruit already. This was a fine, delicately balanced and mature vintage port. Lots of fruit and in no danger of fading away any time soon.
According to Winesearcher.com the average rating on this wine is only 87 points, average price $120.00, and this wine should be drunk by 2020, but based on our recent tasting I would expect this port will still be in good shape and drinking well long past 2025. Port lovers take note, you may recall that The Wine Spectator rated the 2011 Dow's Vintage Port at 99 points and declared it to be their wine of the year for 2014, and the 2011 Dow's is currently available at the SAQ in Quebec under product # 11220869 at $235.00 CDN. However, it will be another 15 years before you dare open a bottle of that. In the meantime why not try a bottle of the 1980, or 1983, or 1985, at half the price.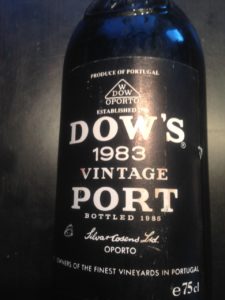 1988 Chateau Rieussec, Sauternes:
Chateau Rieussec is very well positioned in the Sauternes region, lying immediately adjacent to the famous Chateau Y'Quem. Rieussec is owned and managed by the Domaines Baron de Rothschild (Lafite) group (since 1984), and 1988 was considered a great year for Sauternes wines. With all this pedigree in mind I decided to open this bottle for dessert at Christmas dinner, figuring this one should be suitable for sharing with the family. And to my delight, I was right!
This lovely wine was a deep golden yellow color in the glass, showing marvelous lovely tears of fat glycerin flowing ever so slowly down the inside of the glass with each swirl. On the nose you were greeted with a thick powerful honey fragrance, wrapped around more delicate floral scents. On the palate there is a lot more honey, with caramel, apricots, and orange marmalade. The aftertaste goes on and on, and when you exhale after swallowing the wine in your mouth you get this huge second sensation of honey coated caramel apricots throughout your nasal passages and on the palate. It is then that you get to appreciate how well balanced this wine has become. Fruit, perfume, flowers, and a powerful "noble rot" botrytis cinerea aroma all woven together into a very compelling wine.
This wine is 30 years old and in perfect condition, at the peak of its development curve, and showing no signs at all of commencing any decline. There is a fine line with a fully mature Sauterne between the sweetness of youth and the bitterness of an overly mature wine past its prime and sliding into decline. Often the fruit will dry out and the wine will fall out of balance as the acidity becomes more pronounced. Sometimes the balance is maintained, but often it is not and the wine gets drier and harsher. The real question is how long can a wine continue to perform at its peak, will it hold in perfect condition for 10 years, or 20, or 30, or more? This wine has reached the top, but it remains there, and shows every indication that it can continue that way for another 10 years or more. This wine gets 94 points from me, and if you get a chance, buy a few bottles, average price according to Winesearcher.com is $125.00 CDN. Definitely great value for the pleasure it delivers.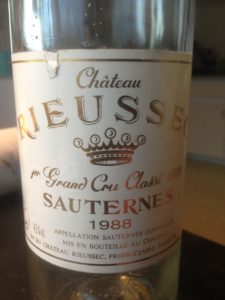 2013 Domaine Bessa Valley Enira, Bulgaria:
I drank this wine last September, it was listed at the SAQ under product # 12468807 for $20.45 per bottle, but is currently sold out. I was very impressed with this wine, it is made in a Bordeaux style and is a blend of 53% Merlot, 25% Syrah, 12% Petit Verdot, and 10% Cabernet Sauvignon. The soil is a combination of clay and limestone. The winery won the Divino 2017 competition as the highest ranking Bulgarian dry red wine. One of the part owners of Domaine Bessa Valley is Count Stephan von Neipperg, who also owns Chateau Canon La Gaffeliere, Chateau Peyreau, and La Mondotte, all in Saint Emilion. The winery makes 8 different wines (7 red and one rose), with total annual production of roughly 60,000 cases. Enira is not their top of the line product, they also make an Enira Reserva and a Grand Cuvée which are more expensive. They have recently planted several different white varieties which should come into production in 3-4 years. Wines are aged for 18 months in French oak before being released for sale.
The 2013 Enira had nice fleshy fruit, full, plump and round. On the palate there were added flavors of leather, smoke and vanilla. The Bordeaux style was very evident, the wine was well made, balanced, and ready to drink now. This tastes better than a $20.00 bottle should taste, and left me wondering how much better the Enira Reserva and Grand Cuvée will taste. This wine is exported to the US, Canada, Europe and Asia. I would give this wine 89 points, and I am sure their top of the line products will score in the 90's. So keep your eyes open for these Bessa Valley wines, buy and try. It is always exciting to find a great new wine at a reasonable price off the beaten track. Unfortunately, the SAQ did not stock a lot of this product, I bought just the one bottle, and by the time I had tasted it, the Enira was out of stock.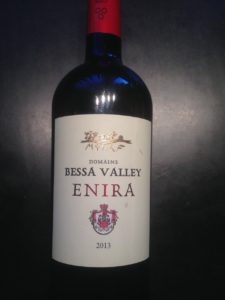 So these six wines were the most memorable wines for me over the last 3-4 months. Remember to buy them old, buy them new, but don't be shy to try them too!
Happy New Year to you all, may all your wines drink well and bring you nothing but pleasure.
Reg.