On January 15, 2019 I had the pleasure of tasting this lovely wine. This was the last of two bottles I had bought many years ago (32 years ago to be precise). The first bottle was consumed about 5 years ago, and was wonderful at that time. It was time to open the last bottle.
I tasted this wine with a couple of family members, leaving about 1/3 of the bottle to consume later, and did so 2 weeks later on January 29, 2019. To my complete surprise, the wine when tasted on the 29th was just as good, just as vibrant as it was on the 15th, absolutely incredible for such an old dessert wine.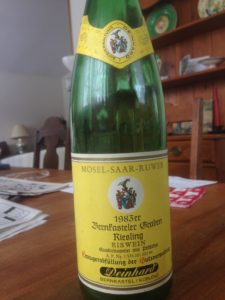 Before opening, the wine had large white tartrate crystals on the bottom of the bottle (see photo of tartrate remaining in empty bottle). In a green bottle it was impossible to tell the colour of the wine itself. In the glass the wine was an orange/brown colour with huge long glycerin legs slowly dripping down the inside of the glass. It was obvious how thick and creamy this wine was just by observing how it behaved when swirled in the glass, a thick coating of liquid that lazily ran down the inside of the glass in large tears.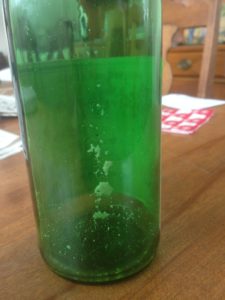 On the nose you initially sensed orange blossoms, followed by a variety of intense floral fragrances, then peaches, lychees, and juicy blood orange. Once the wine hit your palate it burst into full blossom, full blown orange. The best way to describe what I was tasting in my mouth was to call it Grand Marnier without the heavy alcohol level. I could not help but be impressed with the freshness in those taste sensations, no sign whatsoever of any fatigue, vibrant and young in a perfectly stitched balance. No loss of sweetness to this wine as it has aged, enough acidity to prevent the sweetness from overwhelming the wine. The only slight sign of aging that I was able to pinpoint was in the aftertaste, where instead of carrying on and on, it stopped a little short with a tangy ending on your palate. But that was it, otherwise a perfectly preserved wine.
At 36 years of age this wine was in great shape, and showed every sign of being able to continue very nicely for another 10 years. I would rate this wine at 94 points now, down slightly from the 96 points it would have garnered 10 years ago with a longer, smoother aftertaste. Now I had left about 1/3 of the bottle to follow up with in a second tasting 4-5 days later just to see what effect the additional oxidation would have on the wine. I got sidetracked and was not able to taste the rest of the bottle until two weeks later. I was concerned when I found it in the back of my fridge that the wine had been there too long and would show too much oxidation. I was shocked with what I found, still fresh, vibrant and an absolute gem to consume. No loss of fruit, in complete balance and holding strong. An outstanding wine! I recorked the empty bottle to reopen later and remind myself of this colossal orange fruit bomb, and 5 weeks later it was still going strong.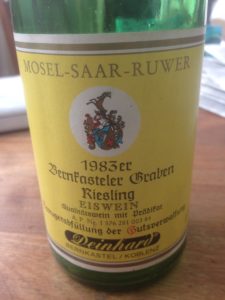 This wine was produced by Weinguter Wegeler under the name of Deinhard, which is no longer used. Weinguter Wegeler is located in the town of Bernkastel in western Germany, located on the banks of the Mosel River, midway between Luxembourg and Frankfurt. Weingut Wegeler currently has about 60 hectares of land dedicated to growing Reisling grapes, 45 hectares located in the Reingau region and the remaining 15 hectares in the Moselle region. This makes Wegeler one of the largest producers in the region. Due to the steepness of the riverbanks the harvest must be all done by hand.
This wine is an Eiswein, and is made in a similar fashion to Canadian Icewine, meaning that grapes are left on the vine until they lightly freeze, then harvested quickly before the grapes can melt, thereby ensuring that a more concentrated and sweeter juice is extracted before the frozen ice crystals melt and dilute the juice. Sweetness levels of German Eiswein typically equal or exceed that of German Beerenauslese or Trockenbeerenauslese wines. Eiswein cannot be made every year due to unpredictable weather conditions which further increases the rarity of this wine.
The rarity of these wines also means that they are generally expensive. It is not unusual to find Canadian Icewines from Ontario and British Columbia retailing for anywhere between $50.00 and $90.00 per half bottle, but these are prices for recent vintages with no age on them. A quick check of www.winesearcher.com for the 1983 Berkasteler Graben Eiswein by Deinhard yielded two locations where this wine can still be bought today. One location in Florida, where the ½ bottle retails for about $120.00, and another location in Germany where that same ½ bottle retails for $190.00. New vintages of Wegeler Eisweins are at least the same price and often more expensive.
For the record, 1983 was one of the best vintages for German late harvest wines in the last 50 years (1976 was also a huge success).
If you like dessert wines like a Sauterne, Alsace Sélection de Grains Nobles, Canadian Icewines, or a Moulin Touchais (see some of my previous blogs on dessert wines like # 64 on Chateau Rieussec, or # 14 on Moulin Touchais for more discussion on these kinds of wines), you must have German Eisweins, Beerenauslese or Trockenbeerenauslese wines in your collection. They are not easy to find in North America, even on the auction circuit. So good hunting, and do not get too hung up on price as you just will not come across them very often. You will find a much better selection at the winery, so if you happen to be wine touring through the Moselle region make sure to seek out a few of these beauties.
Reg