As a wine collector there are certain special events in your life worth celebrating, mostly birthdays and wedding anniversaries. My wife and I married in 1979 so I took it upon myself to pick up a healthy supply of 1979 first growth Bordeaux reds in the early 1980's. Over the years we have celebrated many anniversaries with a nice dinner and some fine wine. This year was no exception.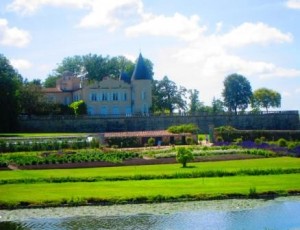 1979 was not a great year for Bordeaux first growth reds, certainly not as good as 1978 or 1982, but all considered the year was slightly above average. When I first decided to purchase the best 1979 Bordeaux reds I could for long term storage, I opted to purchase Chateau Lafite (rated 90 points), Chateau Latour (rated 91 points), Chateau Haut Brion (rated 92 points), and Chateau Margaux (rated 94 points). Last year we tried the 1979 Latour which was marvellous, this year I decided it was time to try the 1979 Lafite again as my last notes from 3 years ago indicated I needed to keep a close watch on how much longer this wine will last.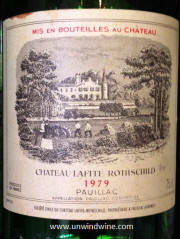 So I planned out dinner for two, first course consisting of a shrimp appetizer in a garlic butter sauce with a smoked gouda cheese and crackers, paired with the 2010 Chateau de Haute- Serre (which I have previously reviewed under blog post # 12 on April 5th). For the main course with the 1979 Chateau Lafite I had steamed lobster in a butter sauce with vegetables, and for dessert I served a strawberry/chocolate mousse cake in the shape of a heart with a 500 ml bottle of 1989 Tokay Pinot Gris Selection de Grains Nobles by J.B. Adam from Alsace.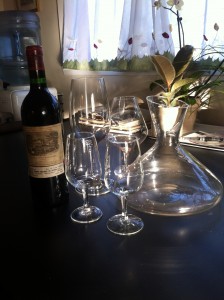 I knew from previous experience that the 1979 Lafite could be sliding downhill, so in anticipation of a weak showing by the Lafite, I went with the 2010 Chateau de Haute-Serre to start. I knew this wine would be in great shape, having just tasted the wine a month earlier and rated it at 92 points just as the Wine Spectator magazine had done.
I also wanted a dessert wine to go with the rather rich strawberry/chocolate mousse cake, and the 1989 J.B. Adam Tokay Pinot Gris SGN seemed perfect, it also happened to be the right size at 500 ml, larger than a half bottle but smaller than a full bottle.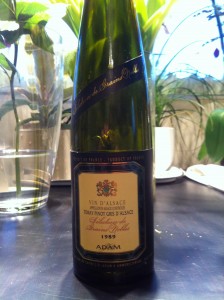 The appetizer was perfectly matched with the wine, the smoked gouda cheese was very nicely accentuated by the hickory wood smoke taste in the Chateau de Haute-Serre. The wine, as per my previous blog notes, performed just as well as it had last month, showing consistency. It also paired very well with the food, showing enough body and flavour without overpowering either the shrimps or the cheese.
The 1979 Lafite turned out to be a pleasant surprise, it was not weak at all, it was delicate and tender, but by no means weak. And the Lafite therefore paired very nicely with the lobster, neither one out of synch with the other, both rather light and delicate in style.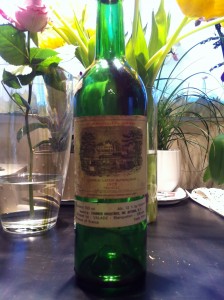 I did not decant the Lafite for longer than about 15 minutes before serving because I did not want it falling apart before we were ready to try it. There was not much sediment in the bottle, and in the decanter the wine did not show much age, the colour of the wine around the rim of the decanter was only slightly browned, again in good shape with no signs of any orange rim. There were no glycerin tears or legs down the sides of the decanter, indicating the wine was more astringent and not rich in fruit.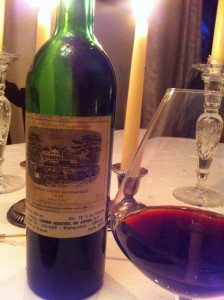 Once in the glass, our wine was subdued on the nose, not giving much away, in fact the nose did improve after another 20 minutes in the decanter and with some swirling in the glass. To me this means that the wine once again is not weak, just reserved and delicate. In future I would decant this wine at least 45 minutes before serving to catch it at its peak. On the nose we had that traditional cedar pencil aroma, leather, cigar smoke, and light fruit delicately balanced. On the palate more of the same, medium body, very soft fruit with gentle balance, reserved but not backward or out of tune in any way. For the year 1979, this wine has held together quite well. The aftertaste was again light, delicate and maybe a little thin, but nicely balanced.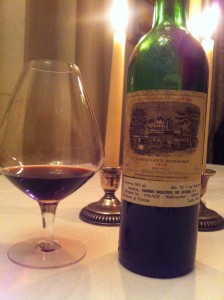 I have one bottle of 1979 Lafite remaining in my cellar, I may not drink that last bottle next May on our next anniversary, but I certainly would not advise waiting longer that 2 years from now to drink up. There is no doubt that the Lafite is not as strong as Latour, Haut Brion and Margaux in the 1979 vintage, so drink up any remaining Lafite first.
For dessert the 1989 J.B. Adam Tokay Pinot Gris Selection de Grains Nobles was also quite pleasant, not great but certainly pretty good. The fruit in this wine was huge, on its own this wine could actually be quite overpowering. Thick glycerin tears rolled down the glass, the wine colour a dark yellow to orange. The wine texture was fat and chewy, in fact the lighter apricot and pineapple fruit was almost out of place with the thick cloying mouth feel you tasted on the palate. The wine was very good, in fact it was perfect for our dessert, and was richer than the dessert itself. In many ways this wine resembled and reminded me of a rich Sauterne and not an Alsace SGN. To me the missing component was not enough acidity in the wine to balance the sugar and fruit. However it is worth noting that this wine is already 27 years old and still showing very well.
Jean Baptiste Adam is the 14th generation winemaker in his family, who have been making wine in the Alsace village of Ammerschwihr for over 400 years, since 1614. Every winemaker with that type of experience and history has evolved his own style of wine, and the Adam late harvest dessert wines are clearly made in a Sauterne type style. Again, this wine paired perfectly with our rich chocolate mousse dessert.
One of the most enjoyable and rewarding parts of planning and hosting a special occasion dinner with the one you love is getting the right wines paired with the right foods. So much can go wrong, and sometimes it does. The wines might be too old, a little too dry (or fruity) for your food selection, maybe not decanted long enough, maybe too long. The pairing with food might not work because of a wrong sauce selection, an off flavoured herb or spice that clashes with the wine. When it all works together the sum total is another memorable shared experience for the happy couple. This was one such evening for the two of us. Every component came together as it should. To me this is what collecting fine wine is all about, planning and sharing a fine dining and tasting experience with friends or family.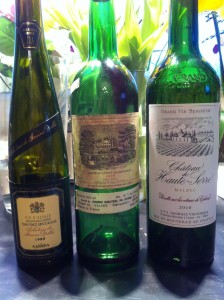 The 2010 Chateau de Haute-Serre retails for $25.95 in Quebec, and is rated by both Reg and the Wine Spectator at 92 points, the 1979 Lafite is rated 90 points by Wine-Searcher.com and sells for an average price of approx. $850.00 CDN, and I would give it only an 89 rating, I think the days of being rated 90 points are starting to fade. Obviously you do not want to be buying this wine any longer, it just does not have much time left on it, and buying such a delicate wine it may already be gone. I cannot find tasting notes or a rating for the 1989 J.B. Adam Tokay Pinot Gris Selection de Grains Nobles anywhere online, but I would rate the wine at 90 points and it is probably good for another 5-10 years before that massive fruit bomb starts to dry out. The 1989 vintage is no longer available for purchase anywhere, the oldest vintage available for purchase appears to be the 2005, which retails at approx. $50.00 US or $65.00 CDN. If you could find the 1989 vintage anywhere it would cost no less than $100.00.
So all together, we celebrated in style, consuming about $975.00 worth of wine (please don't think I paid anywhere near that amount, when I bought the Lafite in 1984 I paid about $30.00). Is my dear wife worth it? You bet she is, one look at her smile tells me she is worth every penny and then some.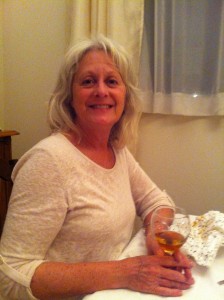 Cheers,
Reg.