Well the title says it all. This post may sound like it comes from a wine snob, and maybe it does. The point is, fine wine has a tendency to turn otherwise normal people into wine snobs.
At a recent barbeque dinner I found myself in conversation with a family member who had recently purchased a decent older bottle of wine from a reliable source and was now tormenting himself as to who he would invite to share it with him. In fact he was lamenting that having recently broken up with his girlfriend that she was now off the short list of candidates. He was asking me how to deal with the difficult task of appraising who might have sufficient knowledge and appreciation of wine to enjoy the opportunity and be worthy of an invitation.
Well naturally, my first inclination was to think of myself, but I did not need to because he suggested that I was the only suitable candidate he could think of, which saved me the embarrassment of volunteering myself. I graciously accepted and am pleased to have made the list. Just because I am on the list does not however get me a seat at the table. So this got me thinking and I immediately smiled and said that this would make a good topic for my wine blog.
When you look around at your family and circle of close friends trying to decide which ones like and appreciate fine wine you usually end up putting everyone into one of three categories, those who like and appreciate, those who have no clue and don't care, and those who are in between. And let's not forget the problem with couples when only one of the two is worthy of your wine. The social ramifications of inviting only the true wine connaisseurs are complicated and usually fatal to you the host, guaranteed to insult somebody.
Imagine if you will the following scenario. You have one 26 ounce bottle of premium red wine to enjoy. It is special, say a 1989 Chateau Leoville Las Cases, it could be opened fairly soon as it is fully developed and at its peak. You have paid several hundred dollars, so you actually thought of drinking the whole bottle yourself. You are not married and have recently broken up with your girlfriend, otherwise you would have had no choice but to split the wine over a romantic dinner with your companion, even if she may not have had as good a nose for wine as you do.
So now your mind wanders through your contact list, "who do I know who likes wine and would appreciate sharing this bottle with me". Well let's see, there's Harry, but Harry never does anything without his wife Jenny, and Jenny has no clue about wine and never shuts up. So Harry is off the list. I could invite Paul, but he drinks like a fish and too fast, meaning either we will finish the bottle much too fast (I will have to drink my wine just as fast to keep up with him and make sure that I get half the bottle), or Paul will get three quarters of my fine bottle. And Paul will just be moving into first gear and will want us to get into at least two more bottles of lower quality wine, no doubt from my cellar, and not do justice to this fine bottle. So Paul is off the list. Sarah likes wine, but her spouse Tom does not, and I cannot invite just Sarah, even though I would like to now that I'm a free agent again. Nope, Sarah is off the list too.
And so on and on it goes. Family is even worse because you cannot invite just one sibling if you have three, you must invite them all or risk insulting the ones left out. You want to pick and choose who is worthy of inviting, but social etiquette says you may not do so without bearing the consequences, and those negatives will outweigh all the good in that special bottle. So what do you do?
Here are some options to consider:
Consider drinking the whole bottle yourself. If anyone corners you in future asking what happened to that expensive bottle, you can make up some feeble story like "I noticed the cork was drying out and there was some seepage from the bottle, causing me to think the wine was no longer good, so I tested it myself, and much to my surprise it was excellent, but of course it needed to be drunk right away".
Plan an event around your bottle with three other friends who appreciate wine. Each attendee must bring a wine of similar cost and quality so this becomes a mini tasting. You will have four good wines with people who appreciate it and who have their own high quality wine at the table. Everyone gets a 6.5 ounce glass of wine from each of four wines. There will also be lots of chatter after the event, and this may even blossom into becoming an annual or semi-annual event to be repeated with other good wines.
You can throw caution to the wind, damn the torpedoes, and invite whoever you want regardless of consequences or who gets insulted. This works only for special people, those social misfits and miscreants who just don't care who thinks what. Yes there actually are some of those special types out there, so don't be shy about it, come out of that closet and proclaim your obnoxious self.
Be bold and generous, even if that is completely out of character for you, and pull out the bottle for your next special family celebration. Here you must have nerves of steel and pay no attention to the cheap seat comments from those in attendance who would rather be drinking a beer, or who immediately switch from your fine wine to wine from a box.
Above all else, do not brow beat yourself into a state of neutrality where you think yourself into such a dilemma that you decide to do nothing. Wine is made to be consumed, and the cost of the wine should not be any deterrent from doing so. When you have an expensive bottle to work with you should put more care and planning into the event (plan for success), but you should still hold the event.
Now let's look into the 1989 Chateau Leoville Las Cases a little more closely for my barbeque friend last weekend. A quick check online reveals that the wine is worth about $300 CDN, rated an average 92 points by 6 critics, peak drinking from 2003 – 2018.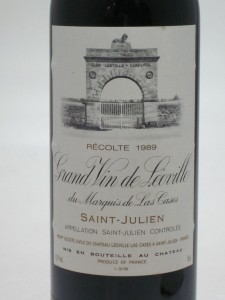 Recent tasting notes describe a wine rich in tobacco, truffles, spice, red and black fruit, cassis, and very full bodied. A noted taster in 2014 declared that the wine should continue to drink well for another 10 – 20 years. Mouth filling and well balanced, ending on spicy, blackberry and black cherry notes, with a hint of chocolate. Even though 1989 is regarded as an overall very fruity year in Bordeaux, Leoville Las Cases can be a very tough wine until it opens up, so the wine should probably be decanted for one to two hours before tasting.
So this wine can be consumed now, in 2 years, 10 years, or even later. Needless to say, my friend's options are open. So he has lots of time to find himself a new girlfriend, reconcile with his old girlfriend, save it to celebrate his Dad's 70th birthday a few years from now, or bring it on over to my place for immediate gratification. When you compare the various options he has available to him, I am not holding my breath waiting for him to show up at my door.
But that's just the way it goes when you have an expensive bottle of wine, everybody is your friend, wanting to get to know you (and your wine) better. Don't be surprised if your wine gets invited out more often than you do.
Ah the choices we have and the decisions we must make!
Cheers,
Reg.