Over several years I have acquired a wealth of knowledge from attending the BYOB (bring your own booze) party. From having attended dozens of parties amongst my circle of friends and family over a 40 year period, ranging in size from 15 to 50 people, I have become a little bit of an expert in the art of surviving the BYOB selection at the bar.
First you need to know, at a BYOB party there are no rules. The host does not inspect every bottle entering the party for quality, nor are bottles counted to verify that you have brought your quota. So it is literally a free for all, you could bring an empty bottle and probably get away with it. The normal sequence of events is you arrive, enter the home, put down your bag containing what you have brought on the floor inside the door while you remove coats, boots, etc. shake hands, hug and kiss those at the door coming to greet you. Now you make your way to the kitchen or bar area with your beer, wine, or liquor, usually in a bag (bottles should not be open and half consumed already). There is usually a collection of red wine bottles on the counter, many already opened and partially consumed.
If you are a trickster or a cheapskate, it is now easy for you to sneak your feeble offering into the lineup, even that half empty bottle that you started at home and did not like. It is best to place your offering in the back of the pack so it is not obvious what you brought. White wine is a little more difficult to lose in the pack because there is usually less of it, and it goes into either the fridge or an ice bucket which requires more shuffling about in the already crowded kitchen. Once your contributions are safely mixed into the pack with the others, you now get to inspect the lineup yourself in more detail.
At this point you will be amazed at what other people have brought. Everyone obviously has different tastes, and clearly quite a few have no taste at all. Just so you don't have to hold on in suspense, let me make it clear right now that you should not bring your half empty 4 liter box of wine that you got from the grocery store, even if it did cost you $40.00. Boxed wine is too far over the top, and too embarrassing if someone sees you trying to sneak it onto the table.
The first rule you need to remember is that all the good stuff goes first. Good old Andy may prefer beer over wine, and you might think he knows nothing about wine because of that, but at one of these parties Andy zeroes in on the best bottles on the table in the right order, and when all the wine runs out then he will happily switch to beer. There might be 10 open bottles of red on the kitchen counter, and I'm willing to bet that almost every guy at that party has looked at each bottle and has a mental picture of best to worst, and that is the order in which they disappear. The worst thing you can do at this type of party is bring a decent bottle of wine, then have a couple of beers before switching to wine. By the time you have made the switch, the wine you brought is gone, and so are the next best two bottles.
Faced with these challenges here is what I recommend you do if you, the wine lover, want to bring a decent bottle of wine to a BYOB, and actually expect to get more than one half glass of it:
Always bring your wine in a bag so nobody can see what you have, you can strategically cover the wine with any food you are bringing as a contribution to the evening, or with flowers for the hostess, etc.
Carefully survey the kitchen counter, find the red wine bottles and quickly assess how many there are, how many are open, and how many, if any, are empty. The later you arrive the more likely there are to be a couple of empty bottles already. Take your bottle from the bag, place it at the back, and group all the unfinished reds together. Then pour yourself a small glass of the best bottle that is already opened, this is merely a diversion in case you are being watched.
When the coast is clear, open your bottle, make sure you are not being observed closely. This next part is tricky because you need to decide if you are going to leave your bottle at risk at the back of the pack, or if you are going to try hiding it elsewhere in the kitchen. Some of the best hiding places are behind the coffee maker, the kettle, or my favorite – the plant in the bay window. Try to avoid the inside of kitchen cabinets as the hostess may not appreciate you constantly going into her cupboards to get a refill.
Hiding your special bottle elsewhere in the house is also not recommended, because if found by anyone else it will almost certainly be returned to the front of the pack on the counter and before you know it has been moved, it will be empty.
One of my favorite techniques is to volunteer my services as head barbeque chef. Everyone has lots of respect for the chef, and lots of sympathy for the work he does while everyone else is partying. Of course the chef is captive at his station and cannot leave the dinner unsupervised on the grill while he goes to the bar for a refill, so it is perfectly acceptable to have a bottle on hand at the grill (outside) for the chef. But take care not to have it easily visible because everyone wants to visit the chef and see how the cooking is proceeding, and if they see you have a bottle on hand, they will want to try it themselves. So your bottle must be off to the side out of plain sight. Do not put it on the ground, people will kick it, and the dog will lick it.
At larger parties of 50 people or more it is not unusual for the hostess to have a bar set up with a bartender dispensing the wine, which he controls and keeps behind the bar. Don't panic, all is not lost. This actually works better for you. Deposit your wine with the bartender (often one on the kids that lives at home if he is over 18) and tell him this is a special wine and the only bottle you can drink because it is so low in sulphites, otherwise you will get an instant migraine. This always works because the kid is so anxious to please his parents, and he gets all the free shots he wants for the evening.
If you are intent on hiding your bottle somewhere, you must keep your wits about you, otherwise you may lose your bottle by forgetting where you stashed it. That is not cool and is certainly not going to endear you to the hostess, nor your spouse.
Watch out for sabotage, that buddy of yours who knows you well enough to slyly watch where you stash your bottle, and then when you are not looking he helps himself to a glass and moves the bottle elsewhere so that he can finish it himself.
Since all the good stuff gets consumed first, by the time dinner is served there is often nothing left but Cuvée de Rotgut. There is a simple solution to that problem, couples bring 2 bottles, leaving one in the car to be retrieved before dinner is served. This may sound extreme, but I remember one party years ago when the only wines left by the time dinner was served was Le Cuvée des Patriotes red (a horrid SAQ bottled delight), Blue Nun, Black Tower, Mateus Rosé, and Baby Duck sparkling white. When that happens you never forget it, so you always need to have backup in the car. If 3 or 4 guys do that, the party is saved.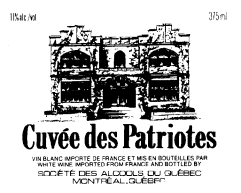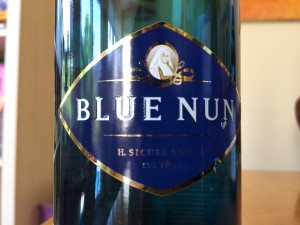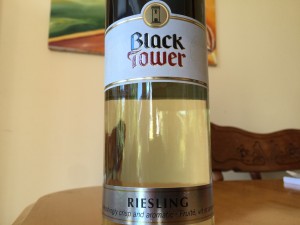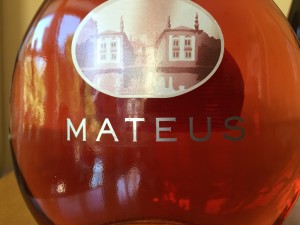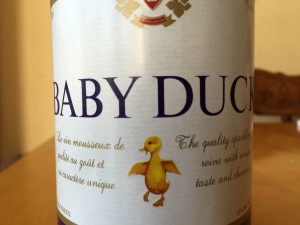 To the younger crowd not well versed in how these BYOB parties work this must all sound ridiculous. Let me reassure you that these techniques listed above have been perfected over decades, and while this may sound very sneaky, this is the best way to ensure that you can bring a good enough bottle that you will enjoy without watching it disappear in front of you in 10 seconds or less.
Enjoy your next BYOB party!
Reg.