A good friend who asked to remain nameless, gave me the idea for this blog. He wants to remain nameless so that we do not make jokes about his consumption habits, I don't blame him.
Wine was made to be consumed, and in most cases as quickly as possible. When you look at the number of wine products available in the market today, it is safe to say that 75% or more are made for immediate consumption. Of the remainder another 15% will benefit from short aging, and the remaining 10% will take and benefit from medium to long term aging. So most of what is out there should be consumed quickly.
Now what happens to your opened and half empty bottle of wine when the evening is over. You have several options available to you, and I have listed some of those below as follows:
If you are the host and everyone has left, you can be brave and guzzle down the rest of the bottle. There you go, problem solved! But not so fast, suppose there are 3 or 4 half empty bottles left, do you chug down all of them? Maybe yes, and maybe no.
If the wine was cheap and of low quality, do not agonize over this, throw it out! Your head will thank you in the morning.
If you find you constantly have a half bottle of wine left at the end of the evening, then it is time to look at your consumption habits. Suppose you and your spouse are enjoying a quiet dinner together and you open a bottle of wine, you drink a couple of glasses but your spouse does not because he or she chooses not to, leaving the bottle half empty. Or even worse, you open a red for yourself and a white for your spouse, you each drink a couple of glasses leaving two half empty bottles to deal with. Quel Horreurs ! You have several solutions available to keep this from happening regularly:
Buy half bottle sizes (375 ml) for him and her.
Communicate with your spouse (I know this can be difficult for some people, and is sometimes why they drink in the first place), and compromise by drinking a red one night and a white the next.
You can send your spouse to bed early and make an evening of it by consuming the rest of both bottles. Remember it is always best to drink the white first and finish with the red. Keep the meds handy for hangover treatment. If this is going to happen regularly, then reread steps 1 and 2 above.
You can recork the bottle and stick it in the fridge. If you are unable to recork the bottle (not because you are inept but rather because of the cheap plastic cork that expands once out of the bottle) then find a rubber stopper, an old port reusable cork, or just leave it uncorked. You can get creative if you want by sealing off the top of your bottle with some plastic wrap and an elastic, but please forget about silly putty, plumbers putty, silicone sealant or any other similar such stupid idea.
Sometimes you will have a really good half empty bottle of wine and a really good reason for not finishing it on the spot, so you may wish to recork it and also preserve it from going bad, oxidizing, or changing significantly in taste. You then have available to you several recorking and preservation systems that are available for purchase in the market. But let's be clear on a couple of issues here, first do not expect your recorked bottle to hang around too long in this condition, plan to drink it within 5 days max. Second, manage your own expectations, do not expect your wine to be the same as it was when you first opened it. It will have oxidized and aged a little since originally opened, so in the case of a young wine it should taste more mature, and in the case of an old wine it may have expired or begun converting into vinegar, or the fruit has diminished and it begins to taste acidic.
Looking at the many different wine preservation systems available to consumers in the market today I would suggest and recommend the Private Preserve Wine Preserver, which comes in a spray can and costs anywhere from $12.00 on Amazon.ca, to $16.00 at LCBO outlets throughout Ontario, to as high as $22.00 in wine accessory stores. You can learn more about the product at their website www.private preserve.com or by emailing them at privatepreserve86@gmail.com .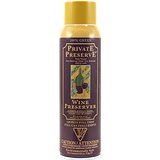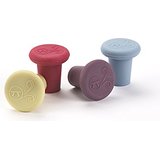 One can is good for several uses (50 or more), and be advised the can is very light because it contains an inert gas of equal parts carbon dioxide, nitrogen, and argon, only slightly heavier than air. The science behind the product is simple, this inert gas is heavier than air so when sprayed into your half empty wine bottle, it will sit on top of your wine and prevent air and the oxygen it contains from being in contact with the wine. This inert gas does not interact with the wine and acts as an insulator to prevent oxidation of the wine. Your wine will technically last indefinitely in this condition, but remember to recork the bottle (a rubber stopper will suffice) and store it standing up. 50 uses on a $12.00 product will cost you about $0.25 per use.
There are several other products to choose from in the marketplace but in my opinion the Private Preserve is simple, cheap, and highly effective. Several other products like the VacuVin system (at $20.00) and the Houdini Wine Preserver Vacuum Pump (at $15.00) operate by sucking the air out of the bottle. The basic problem with that type of system is that it never gets all the air out, and whatever cork or stopper you use will be under pressure to let air back into the bottle, so there will be further oxidation of the wine. Depending on how good and methodical you are with the vacuum pump you may not succeed in properly preserving your wine.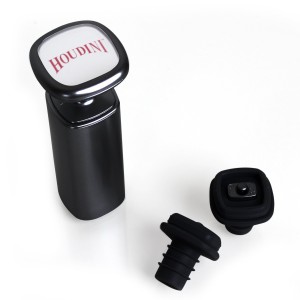 Other devices like the Air Cork Wine Preserver (at 35.00) may perform the task of keeping air away from the wine, but when you see the apparatus in the bottle it looks more like a chemistry experiment than an elegant and expensive half empty bottle of wine being kept for a future occasion.

Then you have the Cadillac versions such as the Cuisinart Electric Wine Preserver (at $40.00) or the L'Atelier du Vin Gard'vin Wine Preserver Set (at $75.00), the name is just as intimidating as the price. Both systems operate the same way as the VacuVin or the Houdini by sucking the air out of the bottle, they just do the work for you.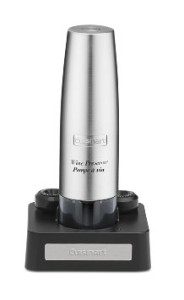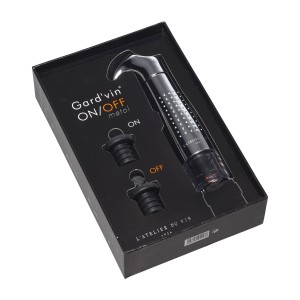 So there you have it, you either suck the air out manually with a hand held device (or electrically if you are adverse to exercise), you can put an inner tube into your half empty bottle of 1982 Chateau Lafite Rothchild, or you can spray in an inert gas that will remove 100% of the air from contact with the wine and seal it off from air perfectly and indefinitely. Seems like a no brainer to me.
A wine preserver system is particularly useful for people living alone who want one or two glasses of wine with dinner, for couples drinking different bottles (for instance one white and one red) who do not want to drink an entire bottle each, and for consuming larger bottles (1,500 ml magnums or larger) where the half empty bottle may still amount to 750 ml or more of wine.
So let's be realistic here for a moment, most of us will usually be drinking a young and inexpensive bottle of wine when you happen to have a half empty bottle left at the end of the meal or evening. Your best solution there is to recork the bottle and keep it in the fridge, even the cork is optional. Drink this half bottle within 2-3 days and it should be fine. If we are talking about an expensive wine, an old wine, or a wine you want to keep longer than a couple of days, then you need a preservation system, preferably one that is simple, easy to use, and reliable. In my opinion the Private Preserve Wine Preserver is the best and one of the cheapest solutions available.
There is of course the ultimate cheap and reliable solution that beats out the Private Preserve every time, and that is to drink it right away.
Cheers,
Reg