For years the top Bordeaux estates conducted a service to their clients called Rebouchage, where old bottles were reconditioned and recorked.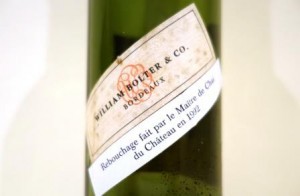 Probably the most devoted service was provided by Chateau Lafite Rothschild who would send their cellar master to various cities in The United States, England and Germany to conduct clinics where owners of vintages over 25-30 years of age could bring in their bottles to the clinic and have them opened, tested, topped up with the same or another similar vintage, recorked, refoiled, and stamped with a certificate of authenticity confirming the date the bottle was reconditioned.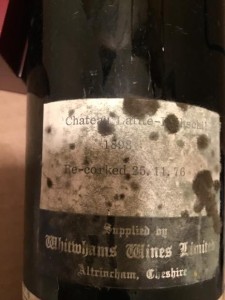 This service was provided by the Chateau for free, but not without consequences. Yes, you the owner would get to taste the wine yourself, but if the cellar master determined that the wine had spoiled, or was not deemed fit to recondition, you would be left with an open bottle, if indeed they did not pour it down the drain. The cellar master would attend these clinics with many vintages of Lafite for topping up purposes, and in the topping up process the average bottle would have approximately 65 ml of wine added to the bottle. This topping up would take care of any evaporation or seepage from the bottle where your prized bottle of Lafite that originally had a fill in the neck of the bottle now had only a high or mid shoulder fill, a process of measuring the size of the air pocket in the bottle called "ullage".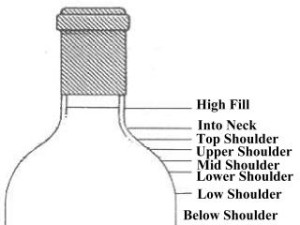 Many other top estates such as Latour, Margaux, Haut Brion, Mouton Rothschild and others offered a less elaborate service where their best customers could bring their wines back to the chateau for reconditioning. However, by far the most convenient to customers was the Lafite touring bandwagon. If you were an American it was obviously much easier to get your wines reconditioned in New York than at the chateau. And nobody will admit to what defines "best customers" in terms of who would or would not qualify to get their bottles reconditioned at the chateau. I am sure if you had regularly bought 10 cases of every vintage of Chateau Latour over the last 20 years, this may have landed you in the "best customer" category and earned you the right to get your bottles reconditioned at the chateau. The rest of us were out of luck.
In the last 4-5 years this practice has effectively been terminated. Now nobody is getting their top Bordeaux wines reconditioned any longer. The producers have ended the practice to prevent fraud. It appears that fraud in the fine wine market has become an increasing concern, particularly in China. In November 2012 in the Chinese province of Wenzhou, 10,000 bottles of counterfeit Chateau Lafite Rothschild with a street value of $16 million were seized by local police. At that time it was estimated that up to 70% of first growth Bordeaux wine in China was fake.
There have been numerous incidents over the last 30 years, that I can recall, of counterfeit or fake wines, but never on this large a scale. Every few years you would hear about some auction scandal where a fake wine was sold, or fake wines were rejected by auctioneers. Then once every 10 years or so there would be some producer's scandal where wines were not made according to the local wine laws. One of the largest I remember was with producers of Austrian wines in 1985 who had added diethylene glycol (more commonly known as antifreeze) to their wines to act as a sweetener. Some wines had potentially fatal amounts added, but many wines had smaller doses which when consumed over a long term would cause kidney damage and failure. Sales of Austrian wines collapsed after that revelation was announced in the press and it took years for their market to recover.
However, nothing on the scale we are seeing now in China has been seen in the wine world in the last 50 years or longer. If a country the size of China has up to 70% of their premium Bordeaux wines faked or counterfeited, this is a serious problem and one that, if left uncontrolled, will undermine the entire fine wine market worldwide. Clearly something had to be done, and it would appear that wine reconditioning became one of the practices that would have to be stopped. Producers were most concerned that counterfeiters would flood local markets with fake reconditioned bottles that actually contained nothing but plonk, and had been carefully faked as a knockoff, which Chinese entrepreneurs have been good at doing to many different consumer products.
In 2012 Chateau Lafite Rothschild not only discontinued their free reconditioning service to clients, but they also introduced their new "prooftag" system, a new seal overlapping the foil and the bottle with a 13 character alphanumeric code unique to each bottle. All Lafite wines from the 2009 vintage onwards are protected with this new identification system. Ah the measures we must take to thwart the dishonest amongst us!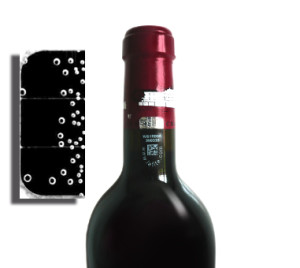 The only winemaker today that still offers a bottle reconditioning service (that I am aware of) is the Australian producer Penfolds, mostly for their Grange Hermitage bottles which, like first growth Bordeaux producers, can age and continue to improve for many decades. Penfolds take a more positive approach by saying they prefer to maintain the service because it will help catch and remove counterfeit bottles from the market. It is too bad that this same thinking does not prevail in Bordeaux.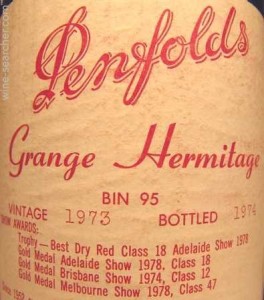 So what does the customer do with his 50-60 year old bottle of Lafite or Latour, with a tired cork and a high to mid shoulder fill?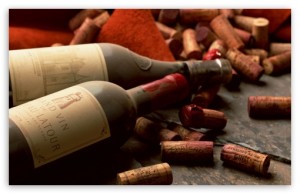 The bottle is clearly in need of reconditioning, but the Chateau will not do it for you anymore. Here are some of your options:
You can sell the bottle privately or at auction, but you must be prepared to discount the value due to the less than perfect condition of the bottle.
You can recondition the bottle yourself, or have a professional service do this for you. However, be advised if you go this route you cannot resell this wine in future either privately or at auction because if this process is not done by the Chateau itself the wine's value is reduced to near zero.
You can of course do the right thing, and that is to drink the wine and stop hoarding it. You may have heard me say this once or twice before – wine is made to drink! When you buy a case of first growth Bordeaux it is not unusual to end up with one or two bottles with lower fills than the others, and over time the fill level in these bottles will drop faster than the others. These are the bottles you would drink first, to test the wine's development and maturity. So do not hang onto older wines with lower fills, drink up!
If you have a sentimental reason for wanting to hold onto a very special and very old bottle of wine and it is badly in need of reconditioning, then get it done.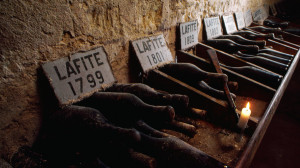 Just do not expect to be reselling that bottle in future. If you want to bring up the fill level but do not have more of the original wine or even a similar younger vintage of the same wine to add, do not panic. The simple solution often used in this situation is to add glass beads that sink to the bottom of the bottle, this will raise the fill level and thereby reduces the amount of oxygen left in the bottle once it is recorked.
I am sad to say that the days of 100 year old bottles of wine in pristine condition that have been reconditioned and recorked once and maybe even twice, are a thing of the past. The fraudsters and counterfeiters of the emerging wine markets of the world have seen to that.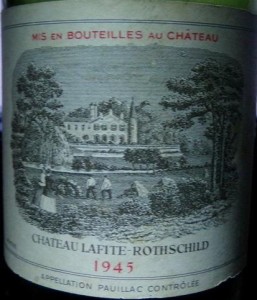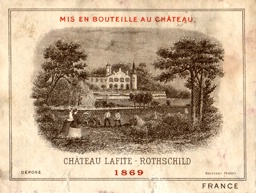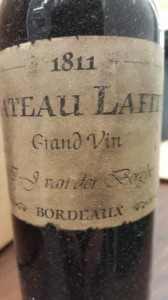 If you want proof for yourself that fraud and counterfeit wine is rampant in China, just go to www.winesearcher.com and look at old vintages (pre 1900) of Chateau Lafite Rothschild for sale. From 1812 to 1900 there are a total of 25 vintages of Chateau Lafite Rothschild offered for retail sale. Of the 25 vintages offered for sale, 22 of them are offered for sale in at least one location in Hong Kong, and 16 of those are available only in Hong Kong. Only nine of those vintages are available anywhere else in the world. It is truly amazing that Hong Kong seems to have cornered the market on rare old vintages of Lafite.
Furthermore, equally amazing is the fact that most of the Hong Kong bottles offered for sale are clustered in the $20,000 to $40,000 per bottle price range. The 1874 vintage is available in 4 retail locations, 1 in France at $9,000 and 3 in Hong Kong at prices between $25,000 and $30,000. The 1875 vintage is available in 2 locations, 1 in Switzerland at $4,000 and 1 in Hong Kong at $30,500. The 1869 vintage is available in 2 locations, 1 in the UK at $183,000 and 1 in Hong Kong at $37,000. The Hong Kong price at $37,000 looks like a real bargain, especially since Sotheby's auctioned off 3 bottles of the 1869 vintage in 2010 in Honk Kong at $230,000 per bottle. One would think that quality of the vintage and rarity of the bottles would produce much more price variation in older vintages, but evidently not so in Hong Kong. I see all kinds of red flags here, does anyone else see what I see?
As we lament the passing of rebouchage, recorking and reconditioning of old wines, another important practice of the wine world that links us to the past, I think it is best that we open a bottle of our oldest and best, and drink a toast to that demise.
If anyone out there in my reading audience has a really old bottle shaped like one of these below and you care to take my advice and open it, then please do not be shy to invite me, I will gladly attend!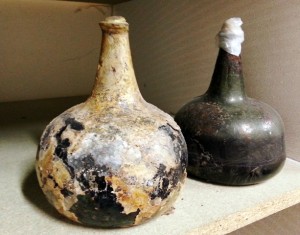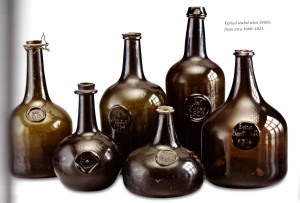 Looking on the bright side, this will encourage you to drink up, and that is what we are meant to do with wine, especially old wine.
Cheers,
Reg.