A wine's provenance simply means where and how it has been kept prior to drinking it. So for most people who drink their wine almost immediately, you probably do not care about provenance at all. That may be fine in the short term, but sooner or later you will run into situations where you will want to know something about the provenance of a wine, and if you are totally oblivious and ignorant of the subject you may end up short changing yourself. So pay attention and maybe I can give you enough of the basic information to be comfortable.
At one end of the scale, say you are a collector bidding to buy a wine at a fine wine auction from a reputable firm. The wine you are bidding on is an old Bordeaux from 1945 that you want to buy to celebrate your father's 75th birthday in 4 years time. You have done your homework, you know what you want, but it is expensive and will cost you $2,000. Before bidding you want to know more about the wine, so you contact the auction house before the event to see what you can learn about the previous owners and how they have kept the wine for the last 65 years. You are looking for information about the wine's provenance.
Continuing with our storyline the auction house tells you one of the two answers below:
The wine has had one owner, a wealthy gentleman with a large 5,000 bottle temperature and humidity controlled cellar, who has recently passed away, and we have been retained to auction off the cellar contents. The wine fill is still in the neck, and the color is a dark red. No evidence of any seepage or cork damage, the foil and label are in perfect condition.
We cannot give you much information on previous owners, we sold the wine about a year ago to the current owner, who left it on consignment with us to resell when market conditions improved. The current owner is one of our regular customers, constantly buying and flipping wines, in fact he has several old Bordeaux wines on consignment with us. This wine looks a little tired, the label is bin soiled and tattered, there are a couple of nicks taken out of the foil wrapper, the fill is only mid shoulder, but the wine should still be drinkable, the color of the wine in the neck is mostly red/brown with a little orange at the edge.
If you got the first answer above, you are in 7th heaven because you know this wine is in mint condition and has only had one owner who has properly kept the wine all these years. That proper care reflects itself in the bottle's condition as well as the wine's condition. In short, the wine's provenance is superb, sublime, stupendous. For this you should expect and want to pay top dollar.
If you got the second answer above, you should stay away and keep looking for another bottle. The bottle condition sounds like this bottle has been poorly kept, in fact it may have been bought and sold several times. The wine's condition demonstrates more evaporation than normal (a high shoulder fill for a 70 year bottle is perfectly acceptable, a mid shoulder fill is cause for concern). The evaporation may have resulted from an overly dry cellar, or no cellar at all. The fading color of the wine in the bottle is consistent with the uncertain past. Having been bought by a wine flipper and left on consignment at the auction house for resale may have happened more than once to this wine. You can be sure that the wine's storage history has been spotty, and that the wine's condition is now in advanced aging and decline. And you will need to store this wine yourself for another 4 years until your father turns age 75. The provenance of this wine is poor so you should avoid it.
Let me show you an example of great provenence below with a bottle of 1848 Boal Vintage Madeira from the producers Henriques and Henriques: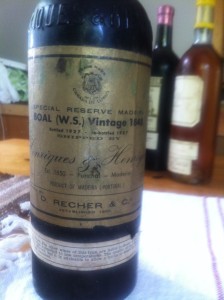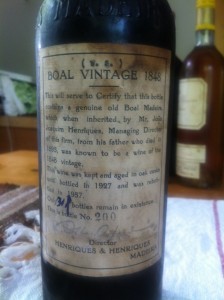 Both front and back labels give you a complete history of the wine, how it stayed in the barrel until it was initially bottled in 1927, and then stayed in their cellars until rebottled 30 years later in 1957. If you ever wanted to buy that bottle, you know for the first 109 years the wine was in good hands under the best of care, so if you can account for the next 59 years you are in great shape.
Most of us are not buying wine at auction so let's look at another example of provenance closer to home. You and your spouse go out to dinner at a fine restaurant to celebrate your wedding anniversary, the restaurant has a very good wine list and you are ready to buy an expensive bottle to make the evening special. The restaurant specializes in older bottles, which is great for you because you are tired of ordering from a wine list where the oldest bottle is 2 or 3 years old. You are amazed to see the wine list contains old Barolo, old Burgundy, and old Bordeaux. They also have a good selection of Sauterne and Vintage Port. However, the wines are a little pricy, nevertheless you are prepared to take the plunge and order one, but you need more information. So you call the sommelier over and begin to check into the provenance of these wines by interrogating your sommelier. So where do you start and what do you look for?
You start by telling your sommelier that you are tempted to order an expensive old bottle of wine with your dinner, but you need more information on how well the wine has been stored. Ideally you want to visit the cellar, but most restaurants will not permit this. Some of the better ones will allow this, and one of my favorite local restaurants for allowing wine cellar excursions was Le Bistro a Champlain at Sainte-Marguerite-du-Lac-Masson in the lower Laurentians, Quebec, owned by restauranter and wine collector extraordinaire Champlain Charest. Mr. Charest was proud of his wine cellar and always eager to escort his guests through his extensive cellar. Unfortunately the restaurant closed in late 2014. More restaurants should show the same passion for displaying their wine cellars like Mr. Charest did.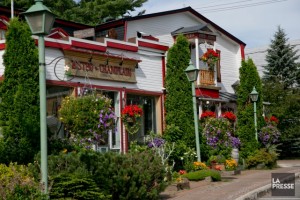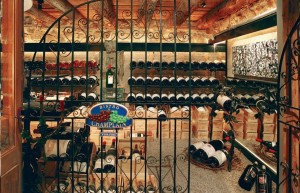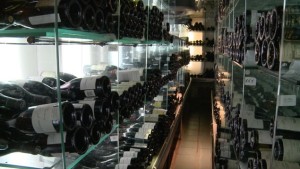 So getting back to our dinner story, your sommelier tells you that you cannot visit the cellar because it is not permitted. So next you ask him how the wine is stored, he tells you the wine is kept in a large walk in fridge unit at a constant temperature and humidity, you ask if white and red are stored together or separately, he tells you together. You ask him how long the restaurant has had these bottles in the cellar because some of these are old bottles, he assures you they have been in the cellar for many years and were originally purchased by the restaurant when the wines were first released for sale by the local Liquor Board.
This all sounds very good, and you order a cheaper white wine to start off with while you continue to survey the reds for the best deal on the wine list. The white wine arrives, and it is warm, too warm. Clearly it was not being stored in any type of temperature controlled unit. Immediately this red flag warns you that the sommelier may be leading you astray. So you forget about an expensive red, now you focus on anything 10 years or older, and reasonably priced. You can often find a bargain priced old wine on a restaurant wine list because they came into inventory years ago at the price then in effect, and are marked up accordingly from that lower base cost. Some restaurant owners will want to clear out the last couple of bottles and have lots of room to mark them down to sell out. But beware of the storage conditions, they may be bargains just because the last few bottles are no longer showing very well.
So you agonize another awkward 5 minutes until you settle on a 2005 Bordeaux 5th growth, young enough to still be in great shape even in a lousy cellar, but fruity and powerful enough that it will still taste full and vibrant, not dumb, closed, and too young if coming from a pristine cellar. The price is not cheap, but you have steered away from the $500 bottles you were initially looking at ordering, all because of the last minute inconsistencies you picked up between the sommelier's story and the warm white wine they served you first. You have used your knowledge of this restaurant's storage conditions to assess and guess the provenance of the wines on this wine list, and it has helped you avoid an unhappy and costly experience on what should be a happy occasion.
When you buy wine at your local wine and liquor store, you should also be assessing the provenance of those wines you are buying. Once again for a cheap bottle there is no issue, but for an expensive bottle you will want to verify that the wine has been racked and kept lying down and not standing up on the store shelf, not under bright display lights, and preferably under some measure of temperature control. You might think this is all common sense but you would be surprised how stupid wine retailers can sometimes be.
Let me give you one example, in the late 1980's the Quebec Liquor Board held one sale in particular that I remember at their flagship store, the Maison des Vins, which was then located on President Kennedy Ave. in downtown Montreal. They had decided to put all their older vintages of Moulin Touchais dessert wine on sale. Most of the stock had been overpriced so it was not selling. Their store layout consisted of a large central walk in style refrigeration area that occupied about 20% of the square footage. This is where all the good wines were kept, older overpriced vintages that were not selling, etc. The latest Bordeaux releases were due to arrive, so they cut the price on the older Moulin Touchais bottles by 40%, took them out from the temperature controlled cellar and stuck them in the sale bins by the big plate glass windows that were exposed to heavy sunlight about 8 hours per day.
I bought as many bottles as I could as fast as I could afford to buy them. Their wines cooked in the sunlight for about two months, old vintages of Moulin Touchais from 1947, 1949, 1955, and 1959 that days earlier were under temperature and humidity control were now roasting in the hot bright sun. The corks on many bottles dried out quickly, seepage began and the fill levels on many bottles began to fall rapidly. The last time I looked upon the poor remaining dead carcasses that were left, there were about 30 bottles ruined that could no longer be sold. So beware of your local retailer's store shelf display practices (are bottles displayed for sale standing up or on their sides?). Does your wine retailer keep his best and most expensive wines under temperature control, or under bright display lights or direct sunlight? If your wine retailer is selling an older vintage, ask how long he has been selling the wine in his shop, and where it has been before making it into his store.
Some winemakers cellar their current vintage until a certain maturity level is reached (for example Moulin Touchais will only release a vintage at 10 years of age). This is a good thing for us the consumers because the winemaker is cellaring the wine and ensuring the provenance of that wine in the process.
If you are a wine collector, or if you buy expensive wines or older vintages closer to maturity, take the time to get to know this wine before you buy it. Be prepared to pay more for good provenance, it is usually worth it.
Cheers,
Reg