I love the d'Arenberg lineup of wines offered by the Osborn family. When I researched this blog before writing it I was amazed to learn that d'Arenberg makes 63 different wines, of which I had tasted only 14 prior to writing this blog. That means they make 49 more different wines that I had not yet tasted, wow.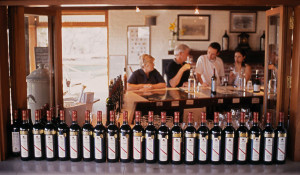 The Osborne family, led by Chester Osborne, 4th generation winemaker, have been making wine at the d'Arenberg estate in the McClaren Vale area of South East Australia (just south of Adelaide) since 1912. Chester took over from his father d'Arry in 1984. The estate took its name from d'Arry's mother Helena d'Arenberg in 1959.
D'Arenberg produces both single grape varietal wines, and blends. They produce whites and reds, they produce sparkling wines, sweet dessert wines, ports, and they produce a lot of single vineyard Shiraz reds. The single vineyard reds are meant to showcase the different flavors brought out by different soils (terroir). The estate produces all organic wines, with little or no use of pesticides, fertilizers, and irrigation. To control weed growth in the vineyards they use sheep, which also do double duty as a natural fertilizer source. The winery uses traditional production methods, including foot trodding (see photo at end of this blog) to crush the grapes, basket pressing, no fining or filtration prior to bottling, and very minimal use of oak so as not to mask or artificially enhance the natural grape flavors.
This all sounds delicious and very healthy, but there is more. The estate produces grapes from up to 33 different grape varieties, and includes in the whites Chardonnay, Riesling, Sauvignon Blanc, Semillon, Viognier, Marsanne, Roussanne, and in the reds Cabernet Sauvignon, Shiraz, Pinot Noir, Grenache, Mourvedre, Merlot, and others in various blends.
Perhaps one of the most interesting features of this estate is the very unique names given to the various wines they produce. Names such as "The Hermit Crab Viognier Marsanne", "The Footbolt Shiraz", and "The Custodian Grenache" are all unique enough, but many of the others are hilarious. Take for instance "The Noble Mud Pie Viognier Arneis" or "The Noble Botryotinea Fuckeliana Semillon Sauvignon Blanc" in their sweet dessert wines, or "The Feral Fox Pinot Noir", "The Broken Fishplate Sauvignon Blanc", "The Witches Brew Chardonnay", or how about some of their many single vineyard Shiraz wines such as "The Fruit Bat", "The Swinging Malaysian", or "Shipster's Rapture". All these names have a specific meaning, which the estate explains on their website in a one page summary about each wine. I particularly enjoyed the explanations behind some of their more colorful wine names such as "The Daddy Long Legs Extremely Rare NV" and "The Old Bloke and The Three Young Blondes Shiraz, Roussanne, Viognier, Marsanne". Check them out for yourself by visiting their website at www.darenberg.com.au .
D'Arenberg does not publish any breakdown of production levels for each their 63 different wines produced, so it is difficult to know how much they produce and sell of each different wine. They do buy a lot of fruit from other growers in the region (from 120 other growers covering 700 hectares of vineyards) to supplement the 200 hectares of their own under cultivation. Their total annual production is about 4,500 tons of grapes.
In two of my previous blogs I have tasted and rated three d'Arenberg wines. In my blog # 7 February 23, 2016 I rated the 2012 d'Arry's Original, a 50/50 Shiraz/Grenache blend, and one of their flagship products. A steady performer year after year, I rated the wine at 17/20. In my blog # 37 December 21, 2016 I rated the 2012 Stump Jump Shiraz at 17/20, and the 2011 Laughing Magpie, a Shiraz/Viognier blend at 18.5/20. In fact I judged them to be the top two wines of the tasting, giving the edge to The Stump Jump for being the best price/quality wine of the evening at $17.50 per bottle.
So I decided it would be a good idea to host a tasting totally dedicated to tasting the wines of d'Arenberg, which was held recently on March 10th. We tasted 10 wines, 4 white and 6 red, with dinner. The only repeat wine tasted on this evening was The Laughing Magpie, all the others were new to me. The wines were all priced between $20.00 and $31.50 CDN, and the idea was to give our tasters a wider appreciation of the many different styles of wine made by Chester Osborne under the d'Arenberg label.
We tasted the following wines in order, see my comments below:
The Dry Dam Riesling / 2016 / $19.95 / SAQ # 11155788 / citrus and lemon, not too steely and dry, just the right level of sweetness and residual sugar, goes great with shrimp cocktail, very pleasant / 90 pts.
The Hermit Crab Viognier Marsanne / 2015 / $20.60 / SAQ # 10829269 / citrus without acidity, full fat and round, ginger, nuts, soft delicate fruits with a spicy trailer / 88 pts.
The Olive Grove Chardonnay / 2015 / $20.55 / SAQ # 11950360 / full thick Chardonnay with olive taste and citrus, nice offsets and balance between the citrus and olives on the aftertaste, leaves a light and refreshing aftertaste, not oaky or overpowering / 89 pts.
The Money Spider Roussanne / 2015 / $22.70 / SAQ # 10748397 / rich and loaded with fruits of all kinds, soft fat and rounded, great legs on the glass, the combined effect is greater than the sum of the individual taste components, this was the best white / 92 pts.
The Galvo Garage / 2011 / $29.00 / SAQ # 11155876 / the wine has good legs but was harsh, astringent and thin, this was a major disappointment and most likely a bad bottle / 85 pts.
The Twenty Eight Road Mourvedre / 2011 / $31.50 / SAQ # 10250804 / you can taste the iodine on the palate and smell it in the nose, comes up flat on the finish in spite of a rounded fleshy grape feel, very odd and off balanced wine, again could be a bad bottle / 86 pts.
The Custodian Grenache / 2013 / $22.65 / SAQ # 10748389 / thick, chewy, great legs, cherries, spicy on the aftertaste and keeps improving in the glass, definitely a wine to buy, to drink now or hold for improvement / 91 pts.
The Footbolt Shiraz / 2013 / $21.95 / SAQ # 10959717 / spice and smoke covering the rich Shiraz fruit, more supple flavors of mushrooms, leather and tobacco, chewy round tannins, pairs nicely with beef, will take more age, buy to drink now or hold / 90 pts.
The Love Grass Shiraz / 2013 / $24.75 / SAQ # 12882864 / very dry, mouth puckering tannins make it hard to cut through to the underlying fruit flavors, there is evidence of earthen tones, smoke, and sour cherries, but any elegance and balance you might expect in this wine is overshadowed by the oh so very dry tannins, maybe time will improve the balance and tone down the tannins / 89 pts.
The Laughing Magpie / 2012 / $27.95 / SAQ # 10250855 / dark fruit with earth, spice and herbs, sits full and fruity on the palate, balanced and young, will age and open up more to further secondary aromas and tastes in 3-5 years, buy to cellar / 90 pts. (Note that in my blog # 37 from December 21, 2016 that I rated The Laughing Magpie 2011 vintage at 92.5 points, similar but more evolved in the bottle being one year older).
To be honest, I was a little disappointed with the reds, there were three I did not like at all, being The Galvo Garage, The Twenty Eight Road Mourvedre, and The Love Grass Shiraz. That was a surprise given they were all more expensive wines. The wines were all opened 6 hours before the tasting so they had plenty of time to breathe and open up, and given that The Custodian Grenache was still improving in the glass, the weaker reds cited above should have been opening up by the time they were tasted, and they did not.
The best performing wines of the evening were, in order:
The Money Spider Roussanne 2015 – $22.70 – 92 pts.
The Custodian Grenache 2013 – $22.65 – 91 pts.
The Dry Dam Riesling 2016 – $19.95 – 90 pts.
The Footbolt Shiraz 2013 – $21.95 – 90 pts.
The Laughing Magpie 2012 – $27.95 – 90 pts.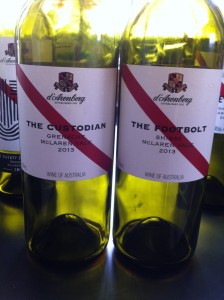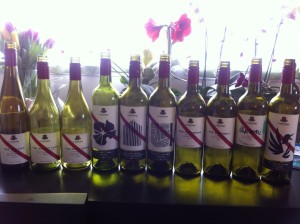 Buy any of these five wines now to drink or hold, they are all reasonably priced.
Prior to this tasting I have had the pleasure of tasting 14 different d'Arenberg wines, with this tasting I have added another 9 wines to that total (having previously tasted The Laughing Magpie in December). It amazes me that even though I have now tasted 23 different d'Arenberg wines, there are still another 40 of their wines that I have yet to taste. Some critics think that winemaker Chester Osborn is scattered too thin by managing the production of so many different wines, and having tasted three reds above that did disappoint, I can understand how some critics might think that way. However, we cannot blame the winemaker for those poor showings when they could just as easily be caused by poor transportation or storage.
I have tasted some of Chester Osborn's top of the line products, including The Dead Arm Shiraz, The Ironstone Pressings Grenache Shiraz Mourvedre, and The Coppermine Road Cabernet Sauvignon from various vintages. These retail today at between $50.00 and $55.00 per bottle in the SAQ (Quebec) and the LCBO (Ontario). In fact The Dead Arm Shiraz 2012 vintage, rated by James Suckling at 94 points, is available now at the SAQ for $50.00, and at the LCBO for $54.95. These wines represent great value for the money, easily the equivalent of a $150.00 to $200.00 California Cabernet Sauvignon or Bordeaux classified growth. They also reward medium term aging of 5 – 10 years in the cellar.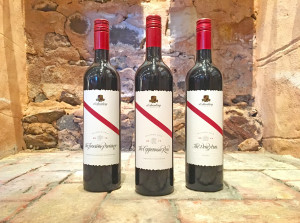 So with d'Arenberg's excellent value in their Stump Jump wines (there are 7 of them: the Sauvignon Blanc, the Riesling, the White, the Lightly Wooded Chardonnay, the Shiraz, the Cabernet Sauvignon Merlot, and the Grenache Shiraz Mourvedre), all priced in the $17.00 – $18.50 price range, along with their very reasonably priced top quality icons, d'Arenberg is producing great wine at eye opening attractive prices.
Personally, I find it very refreshing to find a talented, prolific winemaker and producer like Chester Osborn pumping out a full lineup of high quality and reasonably priced wines.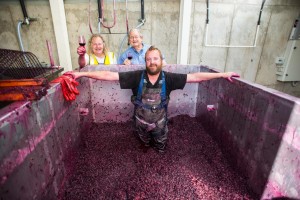 Cheers to Chester (that is him on the left raising his glass), keep up the great work!
Reg.