In February this year we had the good fortune to taste the 1988 Chateau Lynch Bages, and last month at my son's birthday dinner we opened a bottle of 1991 Graham's Vintage Port, from the year he was born. Both were great wines, and worth looking at in more detail.
I bought the 1988 Chateau Lynch Bages in 1992 or 1993 at an LCBO Vintages outlet in Ontario at $43.45 per bottle. This was the last of 3 bottles I had bought. The 1988 vintage at the time was not viewed by critics as outstanding, but it was respectable. It was much better than 1987, which was a complete washout. It was not as tannic or meaty as 1986, but it was more traditional than the softer and fruitier 1985 vintage. And of course it got completely forgotten when the wonderful 1989 and 1990 vintages were harvested. The key adjectives I would attribute to 1988 Bordeaux would be "traditional" and "classic". I did not buy a lot of wine from 1988, but those that I did buy were meant to mirror or compliment those characteristics, and Chateau Lynch Bages fits well.
The 1988 Chateau Lynch Bages in February 2017 was fully mature and in perfect harmony and balance, showing no signs of advanced age or going downhill. Still a strong rich ruby black in color, long tears ran down the glass after swirling the wine in your glass. On the nose there was wonderful cedar, smoke, black cherry, raspberry and currant aromas. On the palate the wine was in perfect balance, soft, fleshy, round and plump. The classic cedar and cigar box flavors took over, then emerged the fruit, with black berries and currants, figs, and raisins. After the fruit came hints of leather, wet damp earth in a forest, ending with  nice spicy cassis on the finish.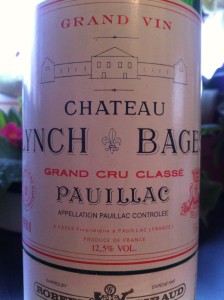 This was not an overwhelming wine, this was not a blockbuster. This was a mature, rounded, balanced wine, in perfect harmony. The wine improved in the glass, even after having been decanted for over an hour. No sign of being over aged or in decline, but pleasantly parked on a plateau basking in the late afternoon sun. At 29 years of age, I would easily expect this wine to last another 10 years effortlessly, and at least 5 of those years in the current condition. My rating was 93 points, well deserved.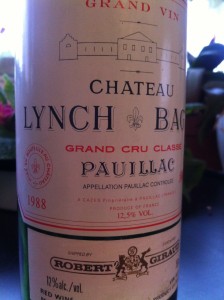 I was really disappointed when I went to check tasting notes on this wine on www.winesearcher.com while researching what the critics have said about this wine recently. Wine Searcher has 5 critic scores ranging from 93 points to 80 (4 of the 5 over 90 points), the 80 point revue was from La Revue du Vin de France done in June 2000, nothing from Robert Parker (in spite of the fact that he has reviewed this wine 3 times, the latest in June 2000 where he gave it 92 points) and nothing from the Wine Spectator. I don't know about you, but when I go to check critic reviews I want to see what the best critics are saying, and it is pretty clear to me that when 4 critics appraise the wine at 90 + points and one gives it 80 points, La Revue du Vin de France has clearly goofed, especially when Robert Parker tasted the wine at the same time in June 2000 and gave it 92 points. So what do you think www.winesearcher.com is doing with their sketchy and poor selection of critic reviews? In my opinion they are doing a pretty poor job.
In Parker's June 2000 review of this wine, where he rated it at 92 points, he expected this wine to keep going strong for another 10-12 years. Well it has been almost 17 years since that date, and this wine is still pristine, and showing all the signs of going another 5-10 years. My reason for going on and on about this is to simply point out that you, as a wine collector and consumer, need to be careful to pay proper attention to the information you get from information websites like www.winesearcher.com or you can be easily misled. Mixed reviews leave doubt, which generally results in one moving on to something else, and in this case you would be really missing out on a classic mature claret in great shape now and for years to come. Too bad that was my last bottle!
The 1991 Graham's was tasted in late March 2017 on the occasion of my son's 26th birthday. Eight of us polished off this beauty in record time, so it must have been very good. The 1991 was the first declared vintage port by Graham's since their 1985, and it was considered to be a small but high quality vintage. This wine has been reviewed in 1993 by Clive Coates for The Vine (magazine) where he rated it 97 points, in 1994 by James Suckling for The Wine Spectator (magazine) where he rated it 93 points, and by Robert Parker for The Wine Advocate (magazine) in 1995 where he rated it 94 points. Parker noted in his comments that the 1991 Graham's was without a doubt the best port of the vintage. He described the wine as "…explosive nose of black fruits, licorice, spring flowers, and tar. Thick and full bodied, with a satiny texture and a blockbuster, alcoholic finish, this is a top-notch vintage port."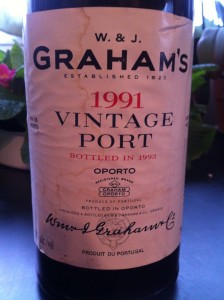 When we tasted this port 3 weeks ago, we observed a dark ruby color in the glass, no longer purple/black as it was in its youth. Great glycerin legs in the glass. On the nose this wine was nicely perfumed with aromas of sweet dark berries, grapes, and tar. On the palate any coarse tannins that may have once been present (as noted the last time I tasted this wine 8 years ago) have  faded away, leaving rich fruit flavors of berries, and plums, as well as licorice, tar, tobacco and chocolate. Sweet without being overpowering on the mid palate, giving rise to a long satin smooth chocolate finish. There is still a little sharpness in the alcohol on the finish, but you can tell that this is diminishing as the wine ages. A very pleasant wine that is now only middle aged, and will continue to improve over the next 10 years before it reaches full maturity. This wine will easily last another 20 years, and will only reach its peak in roughly 10 years by 2027. A very fine port that I rated at 94 points. Drink now and hold for further development.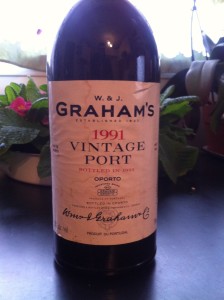 Unfortunately, once again when I was researching ratings and critic scores for this wine on www.winesearcher.com I ran into bad information. WineSearcher rated the wine at 89 points on the strength of 3 ratings of 80 points from Jancis Robinson (date not mentioned), 92 points from Cellar Tracker, and 93 points from The Wine Spectator. No mention of the Clive Coates rating of 97 points, or the Parker rating of 94 points.
So what is the big deal about ratings and wine scores you might ask? Poor data collating by WineSearcher (not properly compiling critic reviews and scores) causes them to rate the 1991 Graham's as the second worst Graham's Vintage Port of the 18 Graham's Vintage Ports declared since 1990, at 89 points. This is just plain wrong, simply because they included the Jancis Robinson rating and excluded two other much stronger ratings. Bad data leads to an inaccurate rating and a bad rap for a really good wine. The moral of the story, and the message behind this blog is twofold:
Old wines properly kept live much longer than the critics expect them to. A wine critic when he/she forecasts a wine's lifespan will always err on the younger side, they never want to overestimate a wine's lifespan, and they never want to assume the consumer has state of the art storage conditions. So properly kept, you should expect your wines to last longer than the lifespan predicted by the critics.
Do not blindly believe what an information collating site like www.winesearcher.com reports on a wine's statistics. Do your own homework, use them as just one of several information sources. Their stats are often selective, incomplete, and lead to the wrong conclusions. If you trusted their information to be accurate and complete, your logical conclusion would be to avoid the 1991 Graham's, and what a mistake that would be. Similarly, you might think the 1988 Chateau Lynch Bages was too old to be bought safely today, and again how wrong you would be.
30 years ago you had no access to online information about critic tasting reports and scores, about latest auction prices, or what wine the Chinese were now buying. Liv-ex and www.winesearcher.com did not exist, and if you wanted tasting reports and scores you subscribed to The Wine Spectator and The Wine Advocate publications. You also relied more heavily on your own tasting experience, and that was very important because it taught you more about what you yourself like, not what a particular wine critic likes.
So do yourself a favor, do not rely too heavily on what an information and search website like www.winesearcher.com says about a wine, because inaccurate or incomplete information will often lead you to the wrong conclusion. My suggestion is that you use it as only one source of information, and that you do your own analysis of the facts it presents to you. I will write another blog soon to give additional pointers on how to research wines on an information collating website. But above all else, always remember that there is no substitute for trying these wines yourself. So drink wines young, old, and in between. Learn to recognize the difference between young and tannic verses fully mature, soft and rounded, and decide for yourself which you prefer. This is all part of your wine learning and appreciation experience.
Learning what you like can be so much fun!
Reg.