Having tasted a lot of red wine during the first part of the show, I was glad to move into white wines with the Champagnes and Rieslings, so here is Part 2 of my tasting experience at La Grande Dégustation, The Montreal Wine Show, which we attended November 3, 2017.
Many Champagne houses were represented at the show including well known names such Moet and Chandon, Laurent-Perrier, Pol Roger, Pommery and Taittinger. We chose to spend most of our time in Champagne at Taittinger, where Carlos De Ipanema guided us through a tasting of six of their products, which was very impressive. Taittinger makes over 35 different Champagne products and ages them a minimum of 3 years in their cellars before they are released for sale. With annual production of over 6 million bottles, Taittinger has over 3 kilometers of underground cellars in Reims, clearly a large scale operation.
At $59.75 per bottle, the Taittinger Brut Réserve is their baseline non vintage product, a blend of 40% Chardonnay, 40% Pinot Noir, and 20% Pinot Meunier, fine bubbles, low foam, peach, vanilla and floral scents on the nose, fresh and zesty on the palate.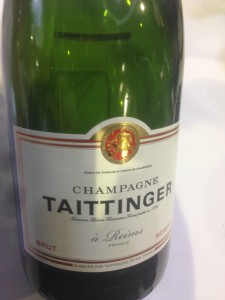 The Taittinger Prélude Brut Grands Crus, at $79.50 per bottle is a step up from the Brut Réserve, a blend of 50% Chardonnay and 50% Pinot Noir, rated 92 points by The Wine Spectator and 90 points by The Wine Advocate, and worth every point of those ratings.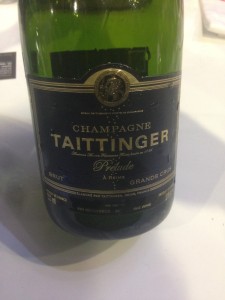 My personal favorite of the bunch was the 2006 Comptes De Champagne Blanc De Blancs which retails at $174.50 per bottle, 100% Chardonnay, fine bubbles, delicate froth, fresh nose with plenty of citrus, vanilla, lemons, almonds, and lime. Very refined with lots of class, a Champagne made to last 30-40 years, buy a couple to lay away and celebrate your retirement.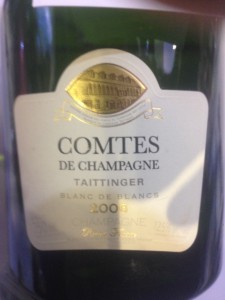 The Taittinger Prestige Rosé at $81.50 per bottle is 55% Pinot Noir, 30% Chardonnay, and 15% Pinot Meunier, rated 92 points by The Wine Spectator and 90 points by The Wine Advocate. The bubbles are small and delicate, the nose detects aromas of raspberry, cherry and currant, with more red fruits on the palate and a touch of spice in the aftertaste, very pleasant, a perfect warm weather refreshment.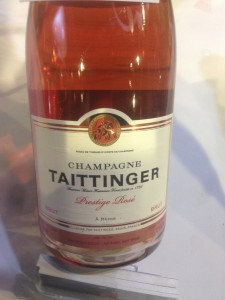 The Taittinger Nocturne City Lights at $72.00 per bottle is a blend of 40% Chardonnay, 35% Pinot Noir, and 25% Pinot Meunier, and was my second favorite Champagne of the group. Again well rated at 90 points by The Wine Spectator, you taste peach and apricots on the palate with a fresh zesty aftertaste.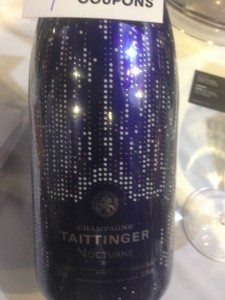 Finally, we tasted the Taittinger Nocturne City Lights Rosé, a blend of 30% Chardonnay, and 70% Pinot Noir and Pinot Meunier, rated 89 points by The Wine Spectator and retailing at $79.50 per bottle. My third favorite Champagne from Taittinger, full bodied and fleshy on the nose and the palate, yet dry and fresh on the aftertaste, a very versatile Champagne that would perform well on its own, with a light meal or even with a dessert.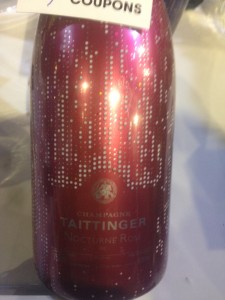 Six different Champagnes, one for every occasion or different type of meal, a very thoughtful, versatile and comprehensive offering of Champagnes from Taittinger, congratulations Carlos (shown below with some of our tasting team), very well done.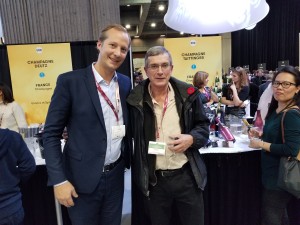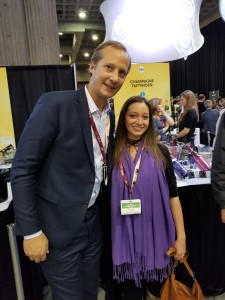 Next we moved on to the Riesling section and of course I was drawn like a magnet to the Hugel booth where Jean Frédéric Hugel guided us through a tasting of five outstanding Riesling wines. If you want to get a full appreciation of Riesling wines at their best, the best place to look is at the Famille Hugel wines from Alsace – heaven, and often perfection in a bottle.
I have written about Hugel wines before in my previous blog posts 21 (June 7, 2016), 17 (May 10, 2016), and 6 (February 19, 2016), so by now you must realize that I am a big fan of Hugel wines. One of the reasons why it is so important to attend wine shows such as this one is because the owner, winemaker, or one of their team is usually there at the show pouring their wine for you. You also get a chance to taste and buy their best wines, wines that you may never see imported by your local provincial liquor board or your local wine shop. This time was no exception.
We tasted with Jean Frédéric the following wines from Famille Hugel: 1) the 2016 Classic Riesling, 2) the 2013 Estate Riesling, 3) the 2011 Riesling Grossi Laue, 4) the 2011 Riesling Vendage Tardives, and finally the 2010 Riesling Sélection de Grains Nobles.The Hugel family have been producing wine since 1639, they produce over 1.3 million bottles of wine per year, and Jean Hugel (Jean Frédéric's grandfather) wrote the rules on Alsace late harvest wines.
The 2016 Classic Riesling was everything you expect from Hugel in the way of an honest, clean Riesling. Well made, the classic steely dry Riesling grape showing plenty of lemon, citrus, and lime flavors with a hint of flint like mineral tones on the aftertaste. This base line product you expect to find locally at about $20.00 per bottle, and will always perform well with any seafood.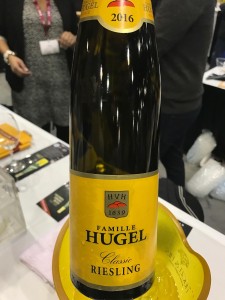 The 2013 Estate Riesling is the next level up at $43.25 per bottle and boasts tastes of apple, pear, almond, and honey. The grapes clearly come from their famous Schoenenbourg vineyards with that unique marley/mineral/chaulky character to the finish on the wine.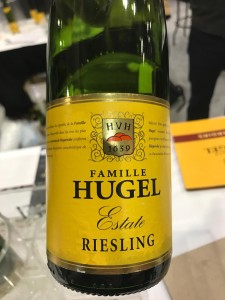 But Jean Frédéric was just getting started with his enthusiasm for the terroir of his wines. It was great to watch the youthful energy with which he described his wines, like they were his children with their own unique behavioral characteristics. This reminded me so much of how his grandfather Jean Hugel guided us through a tasting of Hugel wines in Riquewihr in 1986, with that same Hugel passion that says the family has put their heart and soul into every bottle they make. That is another reason why I strongly recommend attending wine shows such as this one, let the winemaker impress you with their dedication, commitment to detail, knowledge of their terroir, and their passion to make you the best wines they can. Believe me, you will remember that winemaker every time you open a bottle of their wine, and that is an important part of your relationship with wine.
We then continued our tasting with the 2011 Riesling Grossi Laue, which retails at $113.50 per bottle. This wine also displayed the lemon/lime/citrus flavors, but also added in scent of flowers, pistachio nuts, almonds, peach and just a little salt. The combined effect was just a powerhouse Riesling, giving the impression that the wine needed another 5 years before revisiting – it needs time to open further. Great now but to be even better in 5 years time.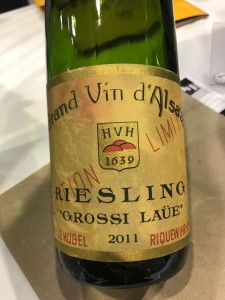 The 2011 Riesling Vendages Tardives is made with 62 grams of residual sugar, and comes from vines averaging 30 years of age. The wine is smooth, sophisticated, elegant, yet full bodied, sweet, and balanced by perfect acidity. Intense floral scents, pears, honey. So much flavor, and such concentrated power, a pleasure to taste.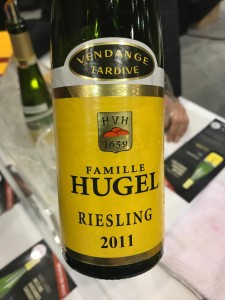 The 2010 Riesling Sélection de Grains Nobles came to us from a 375 ml. bottle that retails at $185.00 per bottle. The wine is made with 120 grams of residual sugar, but the high sugar content is perfectly balanced with just the right level of acidity so that the finished product is light and lively, not thick and overpowering. The vines average 40 years of age, the wine was bottled in 2011 and according to Jean Frédéric "it has not moved in 5 years", meaning that it has not evolved or aged in the bottle at all. This is a wine made to last at least 50 years. On the palate you get bombarded by lemon, peach, rhubarb, ginger, honey, and overripe grapes, combining into a smooth and creamy finish with enough acidity to cleanse the palate and leave you wanting more. Just stunning in every way, dare I say "perfection in a bottle"?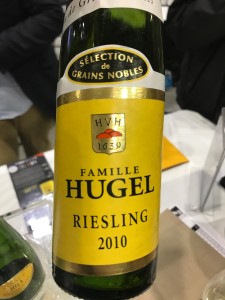 The price tag reflects the high quality of the wine and it's scarcity, which is exactly why it is so important to attend these wine shows and taste rare gems like this wine. Famille Hugel would love to make their Sélection de Grains Nobles wines every year (they have produced SGN wines from Gewurztraminer, Riesling, and Pinot Gris grapes), but weather is often a factor limiting production to maybe 3 years in 10 for Gewurztraminer and even less frequent for Riesling and Pinot Gris. So having an SGN Riesling 2010 at the show available for tasting and purchase is just a wonderful treat. Very well done Jean Frédéric! Your grandfather Jean, and your father Etienne, would be proud of you, 13th generation Hugel ambassador!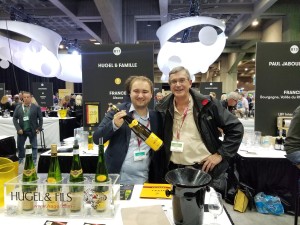 With only 15 minutes left before closing time we scampered over to the Treasury Wines booth where we tasted another 3-4 wines from Penfolds, Lindeman's, Wolf Blass, and Wynn's. The one wine among this group that left an impression on me was the 2016 Gentleman's Collection Cabernet Sauvignon made by Lindeman's. The wine was a full throttle cab, with lots of smoke and spice heaped onto a solid Cabernet Sauvignon base. Our guide told us they even add a small shot of port fortified wine to the final blend, which certainly explains the richness of the Cabernet Sauvignon fruit on the palate and that lingering aftertaste. This wine at under $20.00 per bottle is well worth adding to your buy list if you like a full bodied Australian Cabernet Sauvignon, it's on my own buy list now.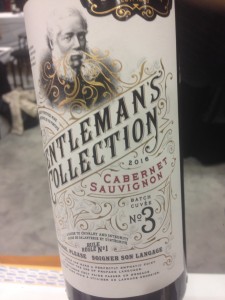 In all we tasted over 35 wines in about 2 ½ hours, a full evening's work, but we had a lot of fun and learned a lot about Washington State wines, Taittinger Champagnes, and I met Jean Frédéric Hugel for the first time and thoroughly enjoyed his presentation and tasting. Whether it be Jean Frédéric Hugel, Mickey Dunne, or Carlos De Ipanema from Taittinger, all three are passionate about wine, especially their wine. That passion shows in their presentation, their hospitality, and their product. This is why you need to attend wine shows, because it is people who make the great wines of the world, and meeting those people goes a long way towards fully appreciating the wines that they make, and the effort and passion that goes into that process. I can't wait until next year and I hope to meet you there. I will be there, how about you?
Cheers!
Reg.