On Saturday January 23rd, I attended a red wine tasting of 14 wines from various regions, all commonly available in Quebec liquor stores, priced between $18 and $30 CDN. We were 14 people attending a birthday party celebration, and everyone brought with them an assigned bottle. The idea was that everyone would have a chance to taste and evaluate 14 different wines, and hopefully find 3 or 4 new wines they would enjoy enough to want to buy again.
We tasted in order three Cote Du Rhone wines, followed by one wine from Cahors, three wines from Bordeaux, two from California, two Spanish wines, one Australian, one from Argentina, and one Port.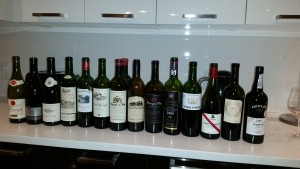 All the wines were quite good, but two did not show well, one because it was too young (the Vacqueyras), and the other  because it was poorly positioned in the tasting after a much fruitier wine (the Monasterio, and the positioning was my fault, I should have placed the fruity Menage a Trois closer to the end just in front of the port). As expected, different wines appealed to different people, so my own wine scores probably differ significantly from some of my fellow tasters. There was however a good consensus on which wines were the top performers.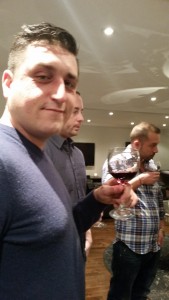 I have listed below the 14 wines that we tasted, in the order we tasted them, along with my personal rating score, tasting notes, price, product information, and other relevant information:
Cote du Rhone red, E. Guigal / 2011 / $21.05 / SAQ product # 259721 / blend of 50% Syrah, 45% Grenache, 5% Mourvedre / average age of vines 35 years / aged 18 months in oak / 3.5 million bottles produced / taste of plum, black raspberry and wood smoke, tasted young and closed / goes with all red meat / my score 8 on 10.
Jaume Reference Vinsobres Cote du Rhone / 2012 / $22.50 / SAQ product # 12125652 / blend of 50% Syrah, 40% Grenache, 10% Mourvedre / annual production 42,000 bottles / rated 87 by Wine Spectator / taste of cherry, leather, toast, spice, and mint, very pleasant and ready to  drink / goes with lamb / my score 8.5 on 10, one of my favorites.
Perrin Christens Vacqueyras Cote du Rhone / 2012 / $24.20 / SAQ product # 872937 / blend of 80% Grenache, 20% Syrah / made from 50 year old vines / made by the Perrin family (same producers as Chateau de Beaucastel in Chateauneuf du Pape) / rated 91 by Parker / taste of black cherry and black raspberry, licorice, pepper and herbs / goes with lamb and beef / my score 7.5 on 10, wine was not ready, too young and scored poorly as a result, needs more time in the bottle, at least two more years.
Clos de Gamot Jouffreau Cahors / 2011 / $23.55 / SAQ product # 913418 / 100% Malbec / made from very old vines from two separate vineyards – one with vines 40-70 years old, the other 120 years old (this is unique and special) / goes with beef, lamb, pork and duck / tasted chalky, smooth with some spice / my score 8.5 on ten, one of the top wines of the evening.
Chateau La Papeterie St. Emilion Montagne, Bordeaux / 2010 / $29.25 / SAQ product # 866400 / blend of 80% Merlot, 20% Cabernet Sauvignon / rated 90 on winesearcher.com / won a gold medal in 2013 / goes with all red meat / tasted still young, smooth tannins, good legs, dark fruit, tobacco and spice / my score 8.25 on 10, will get better given time, 6th best wine of the evening.
Chateau de Cruzeau Pessac Leognan, Bordeaux / 2012 / $24.95 / SAQ product # 00113381 / made by Andre Lurton family / blend of 55% Cabernet Sauvignon, 43% Merlot, 2% Cabernet Franc / rated 16 on 20 by Jancis Robinson / won gold medals in Los Angeles and International Wine Challenge in France, both in 2015 / goes with beef / drink from 2015 to 2027 / tastes of sweet black fruit, spice and pepper, tobacco, thick and rich, ripe and velvety / my score 8.25 on 10, a solid effort with years of good drinking ahead of it, buy this to drink and cellar.
Chateau le Puy Emilien, Bordeaux / 2010 / $28.85 / SAQ product # 709469 / blend of 85% Merlot, 14% Cabernet Sauvignon, 1% Carmenere / aged 24 months in oak / long aging wines / goes with all red meat / taste of full rich raspberry, balanced, long and rich mouth feel, and just starting to open up / my score 8 on 10, just an average performer on this evening.
Kenwood Cabernet Sauvignon Yulupa California / 2012 / $20.05 / SAQ product # 862953 / blend of 90% Cabernet Sauvignon, 5% Merlot, 3% Cabernet Franc, and 2% Petit Verdot / aged 20 months in oak / goes with pork, beef, lamb, and pasta / tasted plum and cherry, fresh sage, thyme, smooth and approachable tannins, made for early drinking / my score 8.75 on 10, smooth and ready to drink, my second favorite wine on the night, I will definitely buy this wine.
Menage a Trois Midnight California / 2013 / $18.75 / SAQ product # 12615264 / blend of 40% Merlot, 30% Cabernet Sauvignon, 14% Petite Syrah, 7% Petit Verdot (don't ask me what the remaining 9% is, this info comes directly from the winery's website and is incomplete) / tasted hot, full of blackberry and spiced plum, mocha, with a long powerful finish, a mini fruit bomb / my score 8 on 10, very forward and ready to drink, reasonable value for the money but lacking the finesse of the others.
Monasterio de Las Vinas Gran Reserva, Spain / 2005 / $20.70 / SAQ product # 10359156 / blend of 60% Grenache, 30% Tempranillo, 10% Carinena / rated 91 by Parker / aged in barrel 24 months and another 36 months in bottle before released for sale / taste layers of sweet ripe fruit, plums, blackberry, cedar, tobacco, anise, smoke, leather and cloves / my score 7.5 on 10, I have tasted this wine before and it has performed much better, maybe tasting it after the fruit bomb above left a bad impression, or maybe it was just a bad bottle, nobody else thought that much of the wine either.
Dehesa La Granja VDT by Alejandro Fernandez, Spain / 2008 / $22.10 / SAQ product # 928036 / 100% Tempranillo / goes with beef and lamb / made from 17 year old vines / consistent scores from 1998 to 2008 between 89 and 92 by Parker and others / tastes of dark berries, cola, smoked meat, mint, and smoky on the finish / my score was 7.8 on 10, I found it had a typical Spanish tang to the palate, no doubt the tempranillo grape in action, but it just did not perform well against the rest of the lineup.
D'Arry's Original D'Arenberg Australia / 2012 / $21.95 / SAQ product # 10346371 / blend of 50% Shiraz and 50% Grenache / a regular favorite and steady performer / goes with beef and pepper steak / tastes of rich dark berry fruit and toasty oak / my score 8.5 on 10, I have tasted this wine in several vintages and it is a reliable and enjoyable wine.
Cabernet Sauvignon Reserve Gran Lurton Valle de Uco Argentina / 2011 / $24.25 / SAQ product # 11375596 / blend of 85% Cabernet Sauvignon and 15% Malbec / rated 90 by Parker / located in the foothills of the Andes mountains at 4,000 feet elevation / tastes of cloves, mint, cedar, vanilla, with a long spicy finish / my score 9 on 10, this was easily my favorite wine of the night, lots of rich and well integrated fruit, a full palate of flavours, long smooth aftertaste, will be a delight for at least the next 5 years, this wine I will buy.
Offley's Late Bottled Vintage Port, Portugal / 2010 / $19.95 / SAQ product # 483024 / tastes of mint and blackberries, sweet and quite young / my score 8 on 10, nothing special, was pleasant but not the best LBV Port available in that price range.
There were too many wines, palate fatigue sets in after about 8 wines, especially if they are all red, so our next tasting will likely be all white wines and no more than 8. We also started the event too late with an 8:30 scheduled start time that got delayed to 9:15 while we waited for a couple of latecomers.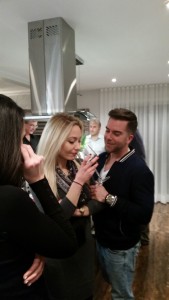 One of our tasters brought the Chateau Le Puy and claimed before the tasting began that this was his favorite wine. By the end of this tasting our taster announced that his beloved Chateau Le Puy was not even in his top three for the evening, in fact he had found several new wines to enjoy. In my view this is the mark of a successful event.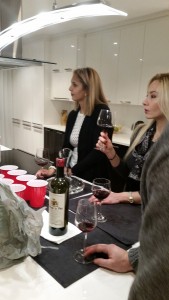 My  top wines for the evening in order were:
Cabernet Sauvignon Reserve Gran Lurton Valle de Uco 2011
Kenwood Cabernet Sauvignon Yulupa 2012
Clos de Gamot Jouffreau 2011
D'Arry's Original 2012
Reference Vinsobres Jaume 2012
Besides having a lot of fun, these kinds of tasting evenings are very informative and educational. Everyone, myself included, tasted new wines they did not already know, and everyone found at least three that they would buy themselves again.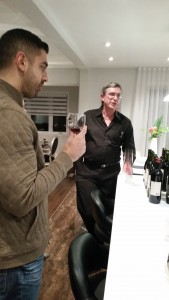 I think the tasting panel had a good time, next time we'll do white, probably Chardonnay and Riesling matched with a seafood dinner, and 8 people with an 8:00 PM start time. Anyone want to join us?
By the way, always a good idea not to drive after this kind of event. Those of us left at the end of the evening left in two taxis, one regular cab and the other a Uber taxi. The Uber driver got lost and could not find our address for pickup, go figure!
Reg.